Award-Winning
Best New Tools & Equipment Product
How Tongue Weight Affects Your Vehicle
Don't be this guy with
too much tongue weight
Or this guy with
too little tongue weight
Because you might end up with your life at risk like this guy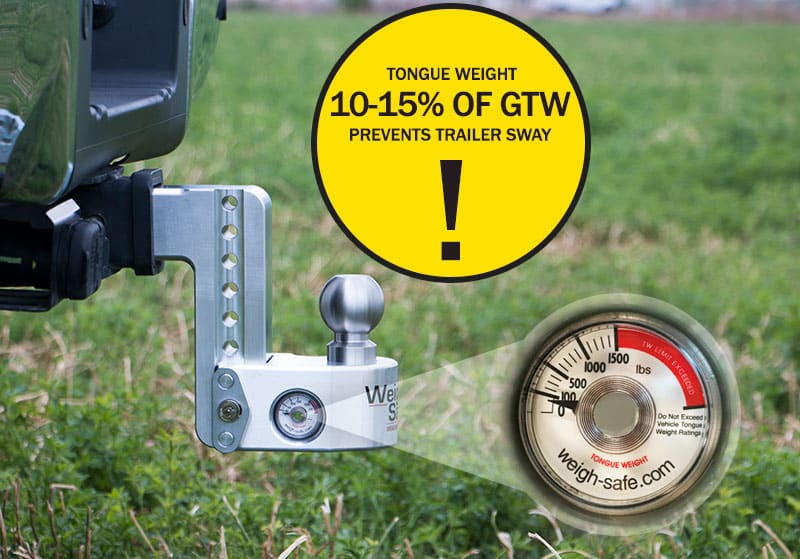 Vehicle Stability and Handling Demonstration
The tongue weight is the static force the trailer tongue exerts on the hitch/tow ball. Proper trailer tongue weight improves the vehicle and trailer towing experience by improving performance. Not enough tongue weight or force on the hitch/tow ball causes an increase in trailer sway from side to side, making it difficult to control. Conversely, too much tongue weight or force on the hitch/tow ball could overload the rear tires of the towing vehicle, pushing the rear end of the vehicle around. This could also negatively affect the vehicle handling. Performance is impaired as you might not be able to go around corners and curves properly, and your vehicle may not stop quickly enough when you press the brake pedal.
The Weigh Safe Drop Hitch effectively measures the tongue weight of your towing load, improving the vehicle tow load balance and performance.
Love seeing my loaded tongue weight right where I want it. Wish I had this years ago. Looking forward to many years of safe towing out there on the road with all of you"

Michael C Gallagher. – Amazon.com

Great product…Being able to dial in my tongue weight when I run different set ups on my trailer is worth its weight in gold. It is HEAVY DUTY, quality is top notch, and it looks great."

Wayne R. – eTrailer.com

This is a high quality hitch with built in scale. No more guessing if you are properly loaded. The ball height is easily adjustable for different trailers."

David Hansen – Amazon.com

FANTASTIC!! I bought this to use with my 24″ enclosed car trailer. It does just what it says it will do. Excellent fit and finish on the entire unit.."

William Billings – Amazon.com

…Easy to install, very easy to adjust the ball height. The Scale makes loading a heavy duty trailer to max. capacity a "breeze" and…makes the road trip so much more enjoyable & safe."

Verner H. – eTrailer.com

I was very impressed…with the Weigh-Safe product. The machine work on the ball mount is perfect and the weigh scale is great for someone like myself who switches between different types of trailers. This is an extremely well made unit and I highly recommend it."

Rob C. – eTrailer.com

One-of-a-kind. Well designed product. Durable aluminum finish. Works great on my 2016 RAM 2500 4×4 with a 2.5″ receiver shaft. The 6″ drop model allows me to pull the most common cargo trailers and my RV…"

JP – Amazon.com

I couldn't be happier with the hitch… Used the hitch to pull my 27 foot Boston Whaler weighing near 12-13k fully loaded and this hitch was nothing but terrific…"

Ross W. – AutoAnything.com
See How It Works
Find out how Weigh Safe can help you perfectly balance your vehicle's towing load and improve trailer performance.