Our Weigh Safe and 180 Drop Hitches are available in a 4", 6", 8", and 10" drop/rise. As far as specifications go, we recommend at least 11" of clearance from the bottom of your installed ball mount. Here is how you can determine which size drop will work best for your vehicle:
Measure from the top of your tow vehicle to the ground (make sure you are on relatively level ground)
Subtract drop height (all of our drops measure 3" longer than the listed drop length; 4" drop = 7" in total, 6" = 9" and so on)
The total that you get after subtracting the drop is the amount of clearance you would have with that particular drop
22″ (top of receiver to ground) – 11″ (8″ drop + extra 3″) = 11″ (of clearance)
* It is important to know that this is a generic recommendation and there are other factors that could impact the distance from the bottom of the hitch to the ground.
Yes! All our ball mounts can be used in the drop position and inverted to be used in the rise position. Please note that in the rise position, all draw bars gain 1" (the 4" drop is 5" in the rise position and so on).
No, our 180 Drop Hitch does not have a gauge in it and does not measure tongue weight.
We sell thousands of hitches per month and we have stayed below 1% of reported gauge issues. We have since switched to a stainless-steel gauge instead of the copper that we were previously using which has further decreased the number of gauge issues.
If an issue does happen to arise with your gauge, we have a lifetime warranty on our gauges and we can get that repaired for you. All you need to do is fill out a "RETURN REQUEST" on our website and submit the appropriate documentation.
It is important to know that "zero" is anywhere between 0 and 100 pounds. There is a dampener built into the gauge to protect it from spiking any time you go over large bumps or dips. With that being said, light-weight trailers and lighter loads with only a few hundred pounds (below 300lbs) will sometimes take a couple minutes to read the correct weight. Heavier loads (over 500lbs) will take the gauge less time to read the correct weight.
** Standing on your hitch is not an accurate way of testing the gauge
All warranty claims need to go through our website. Once you fill out the
warranty form
, we will reach back out to you via email, issue you a RMA number and get you taken care of.
Yes! You can get
replacement keys
. It will ask you for the key code (which should be engraved on the lock itself and start with an H3) and then you should be good to go, and we will ship matching keys out to you.
No, the
HITCH LOCKING PIN
does not come with the hitch and will need to be purchased as an add-on. Any hitch locking pin that is purchased with any of our adjustable ball mounts is automatically keyed alike.
You do not need to purchase the combo lock to get a hitch locking pin to match your dual pin key lock assembly on your hitch. All you have to do is go to the
HITCH LOCKING PIN
product page and type in your key code that is found either on your current keys or the barrel lock on your dual pin lock. **We currently carry only the 5 digit H3_ _ _ key codes.
Right now, ONLY our 2" receivers are compatible with rock tamers.
No, none of our hitches are compatible with any type of weight distribution or sway bar systems. However, we do have our own weight distribution hitch called the
True Tow Weight Distribution Hitch
. It is it's own hitch in itself and is not compatible with any of our previous lines of hitches. However, our Steel Weigh Safe slider is compatible with the True Tow draw bar and can be interchanged.
NO! Only the 180 ball combos are compatible with the 180 Drop Hitch. The single Weigh Safe Tow Balls will not work.
Once an order is placed, it takes 2-5 business days to process (although we try to get it out quicker) before it is shipped out. Once shipped you will receive an email with tracking information. See the map below for estimated transit times from our warehouse in Utah.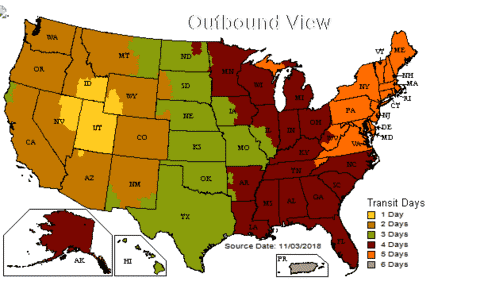 All orders within the lower 48 states over $48 qualify for FREE ground shipping. Shipping rates to Alaska, Hawaii and Canada will vary in price.
We also offer expedited shipping options at checkout in case you are needing your order a little bit quicker. Expedited orders MUST be placed before 2:00 PM MST in order for it to be shipped out that same day. Expedited orders placed after 2:00 PM MST will be shipped the following business day.