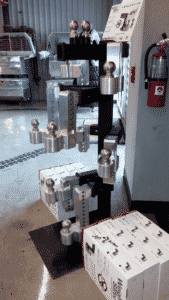 The Weigh Safe hitch is not a hard sell. The aluminum ball mount outshines the competition with a built-in scale that measures tongue weight, a safety feature completely unique to the hitch market. But with so many big names out there, Weigh Safe can get pushed to the corner of a showroom and completely forgotten. Luckily, we have some dealers that have hopped aboard the Weigh Safe train.
Trucks Unique down in Albuquerque, NM recently sent us a few photos that brought smiles to our faces. They had dramatically modified our point of purchase display (see picture). We sent them a display that holds four hitches. The display now holds double the hitches plus two stainless steel balls. The note with the photos said, "Sure catches a lot of attention." It sure caught our attention, and we see Weigh Safe every day.
Another successful dealer, etrailer.com, put a 360 degree view of the hitch on its website and posted in-depth review videos that really showed off our product. Etrailer.com had more informative videos than the Weigh Safe website and we often told customer to go watch them. We had to work hard to get our website up to par.
We love all our dealers and appreciate their efforts. For a full list of dealers or to find a dealer near you please visit our dealer locator.
We often look to our dealers to spark our own creativity. Their questions drive us to update our website with new information and features. We recently added measurement images that allow our customers to get a realistic idea of the hitch size before ordering (see picture below).
In summary, when Weigh Safe is placed side by side with any other hitch, there is a clear winner. Once, a man came by our facility with another major brand of aluminum ball mount still in the box. He took one look at Weigh Safe and said he was going to return his hitch. Weigh Safe is definitely a product dealers should be proud to sell.