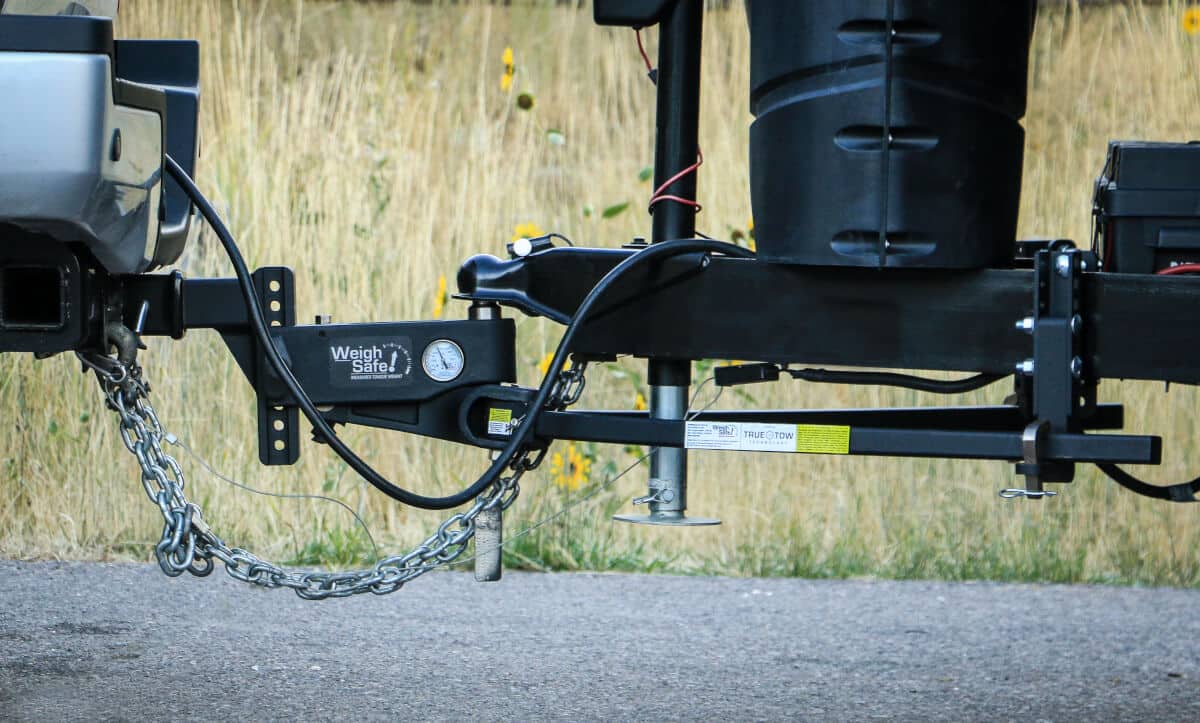 Until today the towing industry has been unable to provide consumers with a weight distribution hitch that truly distributes your load. Current industry solutions have been inconclusive and unsafe, missing critical measurements to reach a true weight distribution. With our continued efforts in revolutionizing the towing industry and offering our customers a Towing Peace of Mind, we now offer a truly complete weight distribution system called "TRUE TOW". Our Weigh Safe True Tow Weight Distribution Hitch includes "True Tow Technology" and comes manufactured with the following features:
A

BUILT-IN SCALE

to measure both

tongue weight

to ensure

10-15% of GTW

and

distributed tongue weight

to truly give you a distributed towing system.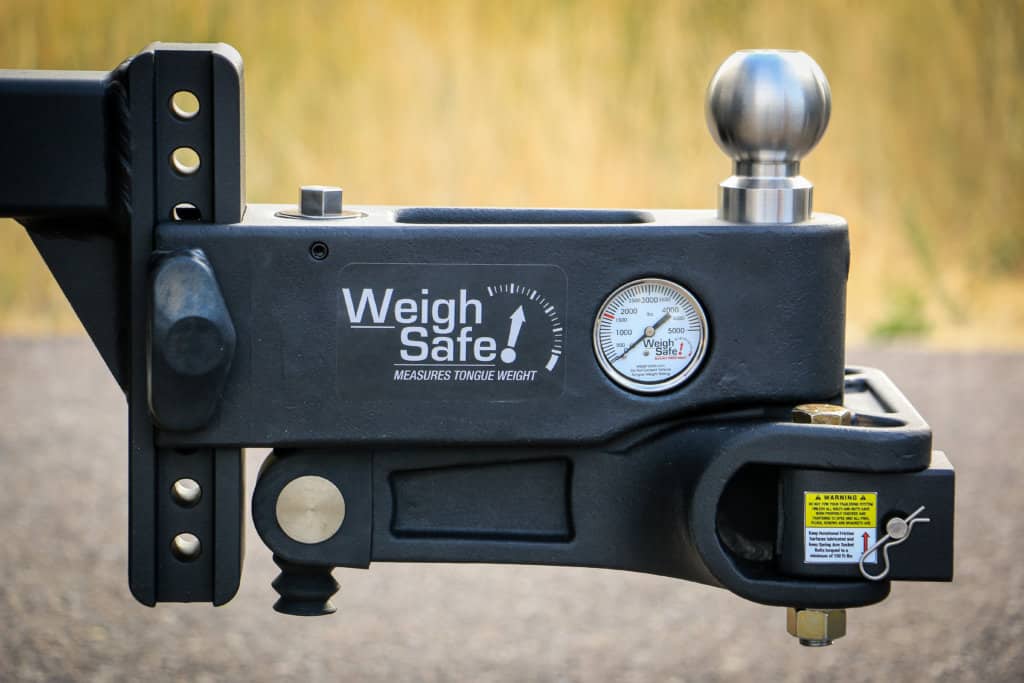 A

LIVE ADJUSTMENT SYSTEM

built into the head assembly with an internal pivot point that eliminates the need to remove the head assembly for re-adjustment resulting in a much easier and quicker installation, anytime adjustment, not to mention it saves a significant amount of time.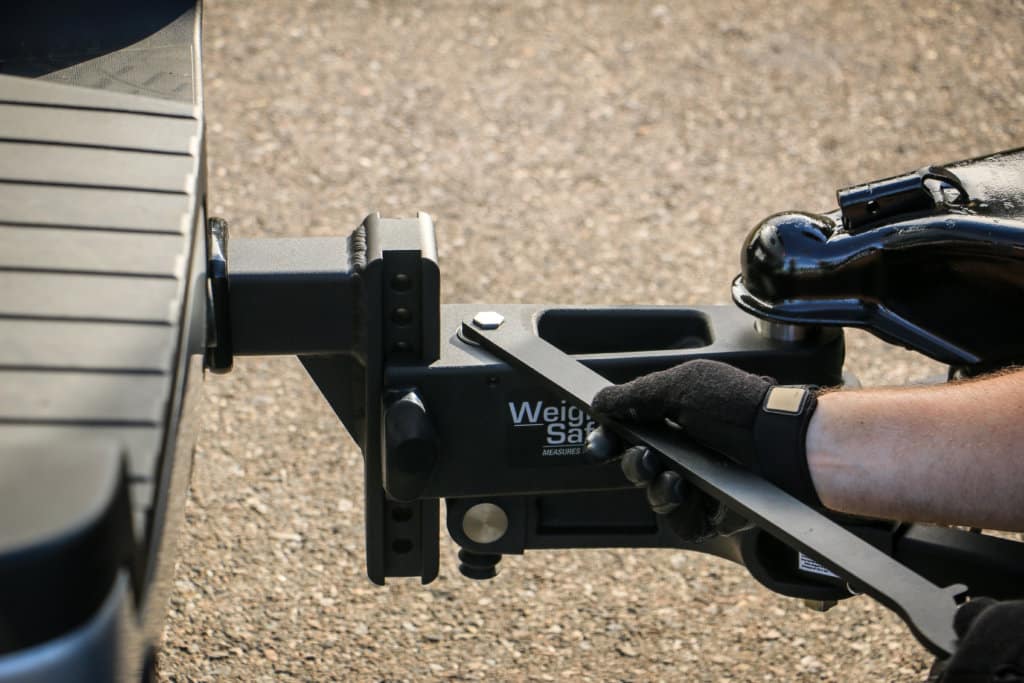 EASY HEIGHT ADJUSTMENT

using our

dual pin key lock assembly

providing safety from theft and ease with 1" hole increments to provide more accurate height adjustment compared to competitors with 1.75" hole increments.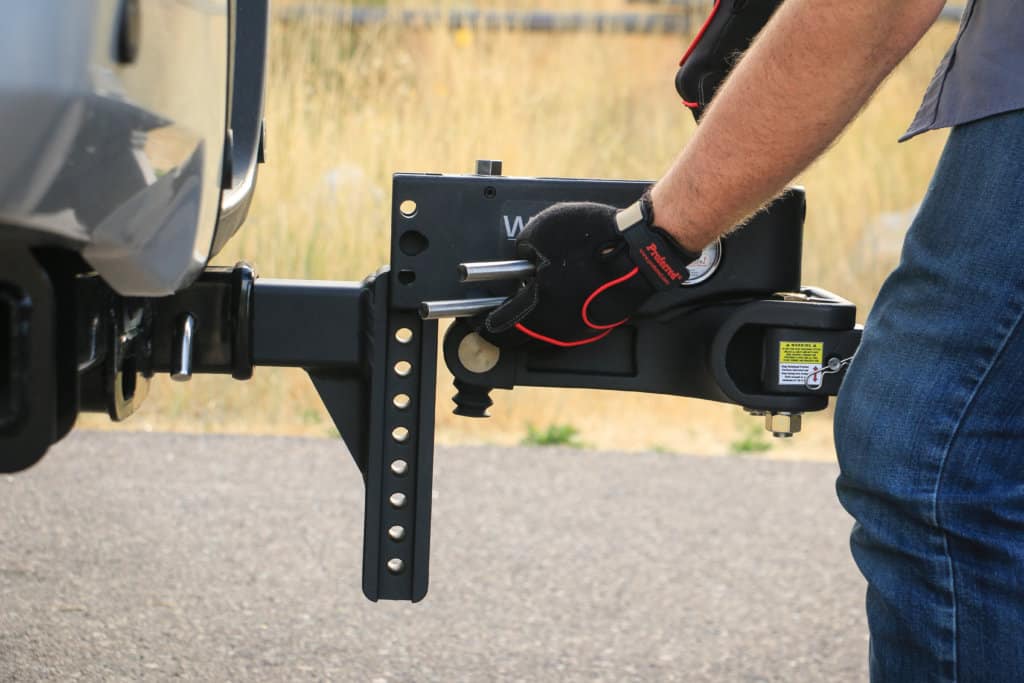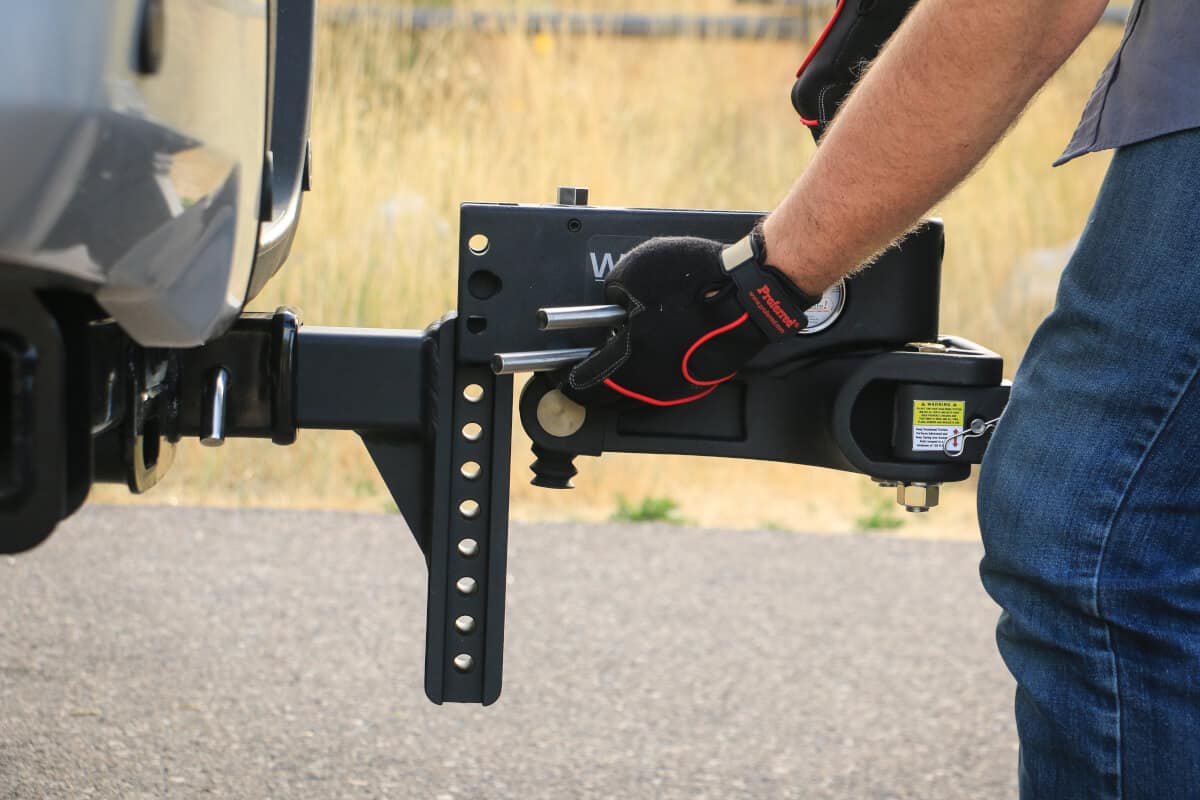 An

Extended Sleek Design

that generally gives you the ability to lower your tailgate or open your liftgate without the trailer tongue/jack interfering and a better turnong radius.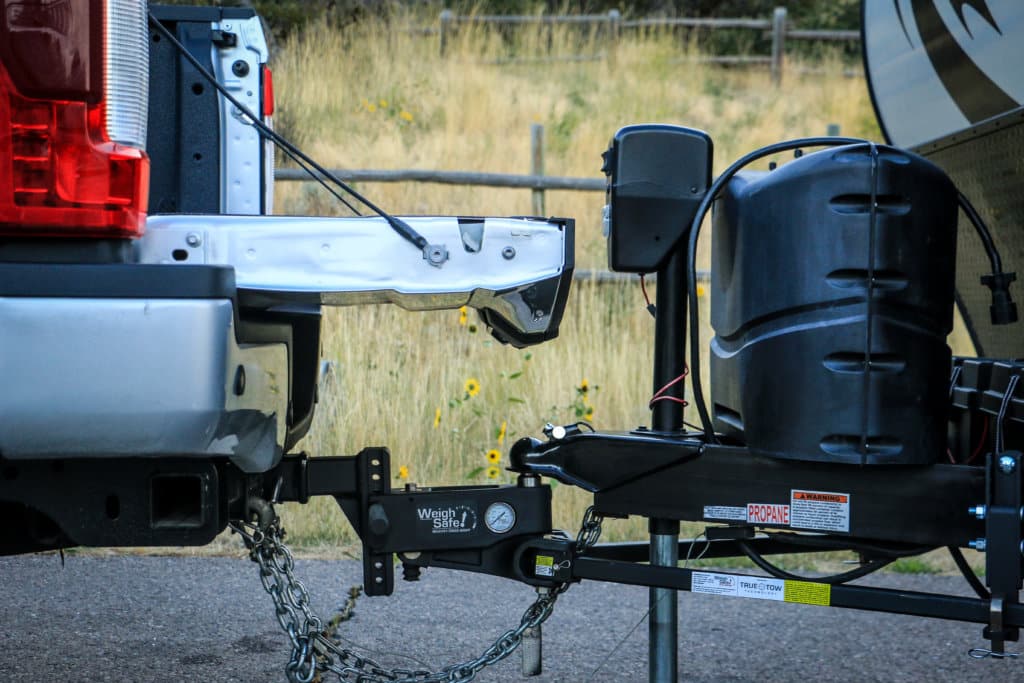 DTW (Distributed Tongue Weight) Tool

application for smartphones (android and IOS) or available on our website to set up the highly accurate distributed system by outputting a DTW that the Weigh Safe gauge on the hitch will read when distributed correctly.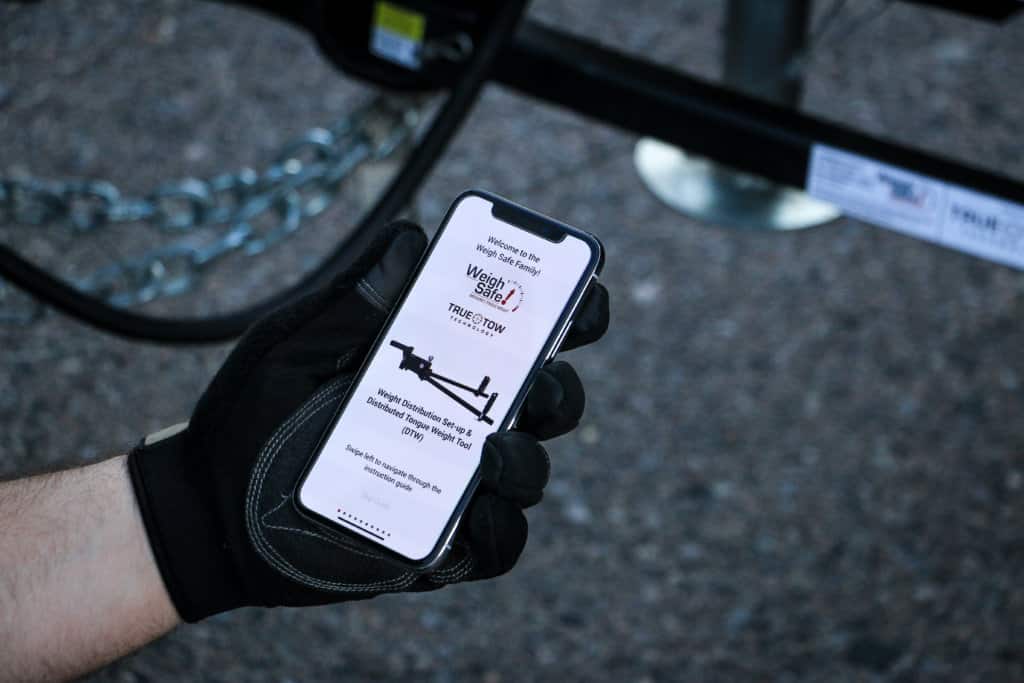 It

TRULY

distributes the tongue weight of the trailer between the back axle of the towing vehicle, and the axle(s) of the trailer and returns the lost weight off the front axle to provide the customer a safer and smoother ride.

Provides

ANTI-SWAY

friction areas that help to reduce sway caused by wind or passing vehicles. 
Instead of one hitch for one specific tow vehicle and trailer, it's now ONE HITCH FOR ALL tow vehicles and trailers. The True Tow Weight Distribution Hitch can be easily interchanged between different tow vehicles and trailers so you can put trailer brackets on as many trailers as you want!
All of these features remove the guesswork that has been required by all current weight distribution systems for far too long.
This hitch is rigidly manufactured with precise castings and high grade steel. As mentioned before, True Tow includes a robust app that you can download on your smartphone (available on both iOS and Android) for further ease in setting up your hitch. The app makes it easier to save your settings for future reference and future setups on different towing applications.There's frequently asked questions, maintenance and other options and information as well.
The Weigh Safe True Tow Weight Distribution Hitch is currently available in two different drop lengths and shaft sizes: 6" and 8" drops are available in both 2" and 2.5" shanks.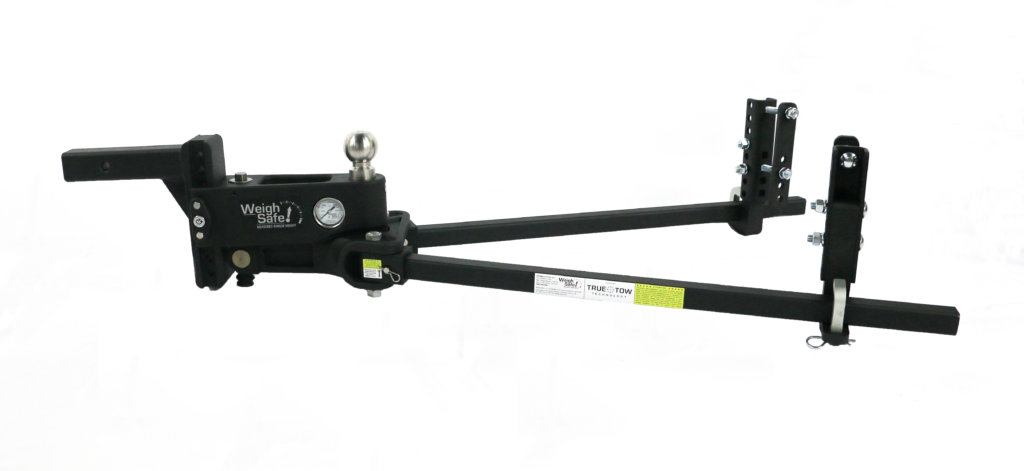 Why Use a Weight Distribution System?
Whenever you hook up a tow vehicle to a trailer with a bumper pull hitch, the back axle of the tow vehicle acts like a pivot and weight is lost off the front axle. Where does that weight go? Not only is the back axle holding the weight of the trailer tongue but it is also holding that lost weight of the front axle resulting in lower squatting and increased wear on wheels, suspension and axle; it also lowers the towing capacity of the tow vehicle. With weight removed from the front axle, it lowers the braking force and loosens up the front end of the tow vehicle making it harder to steer and drive straight on the road. This is where our Weigh Safe True Tow Weight Distribution Hitch comes into play. 
How Does a Weight Distribution System Work?
Like we mentioned earlier, when a trailer is hooked up to a tow vehicle, that trailer is placing an increased amount of weight on the rear end of the tow vehicle. When a weight distribution hitch is used, it spreads the tongue weight of the load off of the rear axle and levels it out across the other axles to restore balance. 
To get a better understanding of what is happening, this weight distribution is much like a wheelbarrow. Using the spring arms (like the handles of the wheelbarrow) to lift and leverage the rear end of the tow vehicle, therefore distributing that lifted weight onto the other axles. Once the weight is distributed across all axles, driving performance is increased, stress on your vehicle is reduced and a smooth and level ride with the ability to maximize the capacity of your hitch is achieved.
It is important to know that while the weight distribution hitch redistributes weight and balances your load, it does NOT increase the total amount of weight that your tow vehicle can handle. You should only tow as much as your lowest-rated component and always abide by the towing capacities of your tow vehicle and trailer.
Other Great Features:
Another great aspect of weight distribution systems is that because it redistributes weight across all axles, it therefore helps keep each axle within it's gross axle weight rating (

GAWR

), which is something that we don't always think about. GAWR is the maximum allowable weight that can be placed on a single axle, determined by the manufacturer. Each axle has its own individual GAWR that should not be exceeded, which is just another way that weight distribution hitches improve driving performance, reduce stress on your vehicle and create a smooth and level ride.

Another great feature of our True Tow Weight Distribution Hitch is that it can be converted into a normal adjustable ball mount. You can use the same draw bar portion from your True Tow hitch and all you would need to do is purchase the steel slider portion and a steel ball retaining pin on our website! Super convenient without the added hassle of purchasing an entire new hitch! It's basically a two-in-one hitch that covers even more towing needs and applications.
Here is all the information you need in order to setup your True Tow Weight Distribution Hitch:
Installation Video: 
Website: http://www.weigh-safe.com/true-tow-weight-distribution-hitch/
DTW Calculator: http://www.weigh-safe.com/true-tow-weight-distribution-calculator/