Our Weigh Safe True Tow Weight Distribution Hitch includes "True Tow Technology" and comes manufactured with numerous awesome features. We will go through each feature in depth so that you can understand why this weight distribution hitch is the best on the market. The True Tow Weight Distribution Hitch comes with the following features: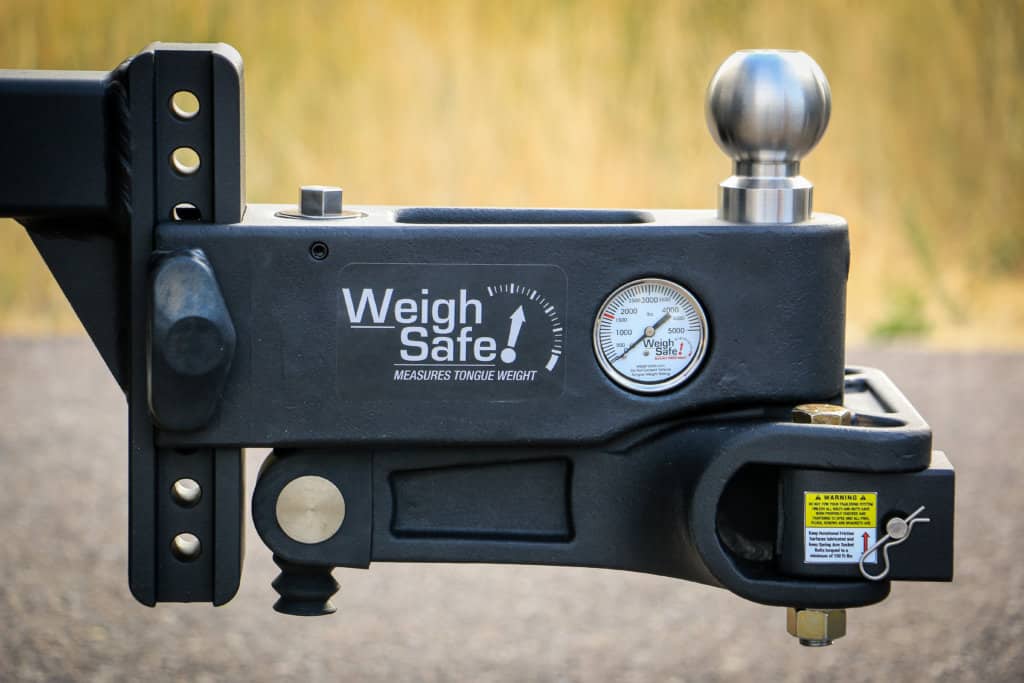 A built-in scale to measure tongue weight to ensure 10-15% of GTW and distributed tongue weight to truly give you a distributed towing system.  
Weigh Safe is the only trailer hitch manufacturer in the industry with patented technology allowing us to build gauges into the body of the hitch itself for measuring tongue weight. Our True Tow Weight Distribution Hitch is no exception to that.  It was finally time to design a weight distribution hitch that has a gauge incorporated into it to measure tongue weight… only we took it one step further. 
Not only does our True Tow Weight Distribution Hitch measure tongue weight like our other product lines, it also measures distributed tongue weight to truly give you a distributed towing system. Once all your measurements and information is inputted into the Distributed Tongue Weight tool (DTW tool) on our Weigh Safe app or our website, it will calculate what your distributed tongue weight should be. This calculation of distributed tongue weight tells you how much weight the spring arms need to be loaded to in order to provide a truly distributed load providing the correct front load axel return.  This load is reflected in an added amount of weight to the Weigh Safe gauge, called DISTRIBUTED TONGUE WEIGHT.
You will not be able to determine your DTW without either our app or our website because this is the only place where the DTW tool can be found to provide those needed calculations. If you do not have the correct DTW, you cannot setup your system appropriately. 
Weight Distribution Hitch and Tongue Weight
It is extremely important to measure your tongue weight prior to installing the spring arms and distributing your load. Just because the True Tow is distributing your load does not mean that you can have improper tongue weight.
You must still keep your tongue weight between 10-15% of your gross trailer weight. Keeping your tongue weight within this range helps minimize sway and creates a much safer and enjoyable towing experience. Your True Tow Weight Distribution Hitch will still distribute your load even if your tongue weight is outside that 10-15% range but it will not assist in minimizing trailer sway. 
In order to have the safest and most enjoyable towing experience, it is important to stay within that 10-15% tongue weight range as well as reaching your DTW once your True Tow is attached and in place. That built-in Weigh Safe gauge is there for a reason and is designed to keep your load balanced and create a smoother and safer ride, so use it to its full capacity!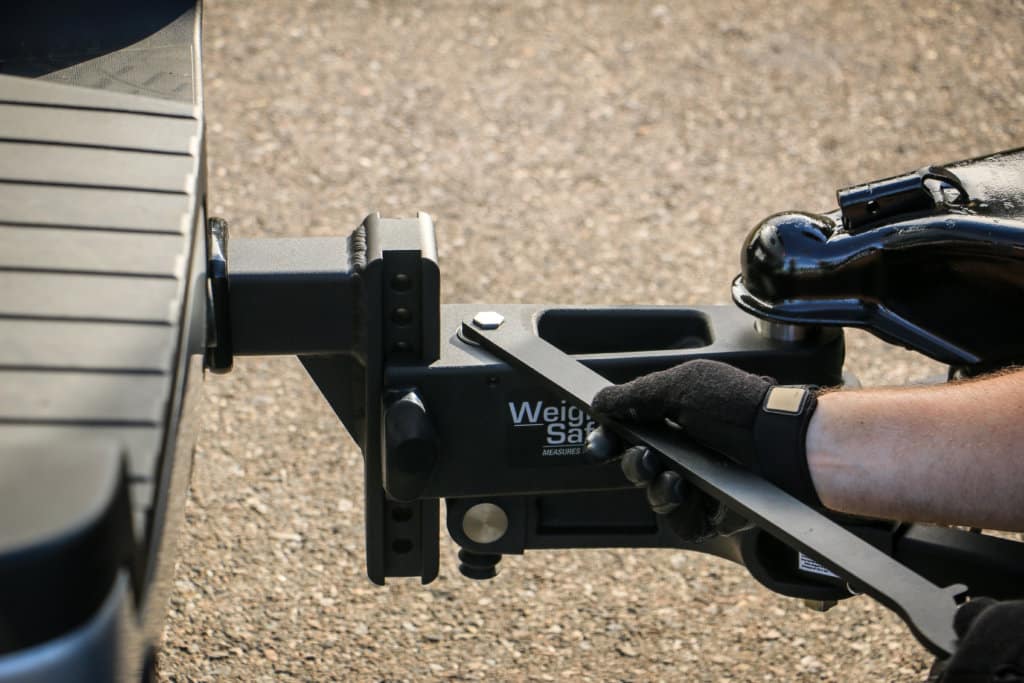 A live adjustment system built into the head assembly with an internal pivot point that eliminates the need to remove the head assembly for re-adjustment.
Live Adjustment System in Weight Distribution
The Live Adjustment System allows you to easily reach your calculated DTW and truly distribute your load. It is an internal pivot point built into the hitch head assembly that completely eliminates the need to remove the hitch head assembly for re-adjustment. This feature proves a much easier and quicker installation, anytime adjustment and saves a significant amount of time. 
With other weight distribution hitches on the market, there is no such thing as an easy hitch head adjustment. If you didn't get it right the first time, you are left removing the entire hitch head, among other components, and then adding/removing washers only to hope you get it right this time around. 
The Live Adjustment System feature on our True Tow Hitch allows for quick and easy adjustment for your weight distribution hitch. Once you have your DTW calculated using the DTW tool on our app or website, all you have to do is tighten or loosen that lead screw on the Live Adjustment System until the Weigh Safe gauge reaches your calculated DTW. 
Turning the lead screw clockwise increases distributed weight and vice versa, turning it counterclockwise decreases distributed weight. And the only tool that you need to do that is either the lift arm that came with your True Tow Weight Distribution Hitch or a ¾" socket or lug wrench. It's as easy as that!   If it doesn't quite feel right as you head down the road… Pull over and make a couple turns on the adjustment mechanism and off you go. Adjustment on the fly!
Once your Weigh Safe gauge has reached the required DTW, your system is then truly distributed. It is important to know that the DTW will normally, but not always, read somewhere between 2 to 3 times your actual tongue weight.
If you notice that your system does not move after a substantial amount of adjusting, try standing or kicking the tongue of your trailer to loosen up the high/extra friction that can sometimes be caused by the added force on the spring arms resulting in slow or no change in tongue weight while adjusting the lead screw.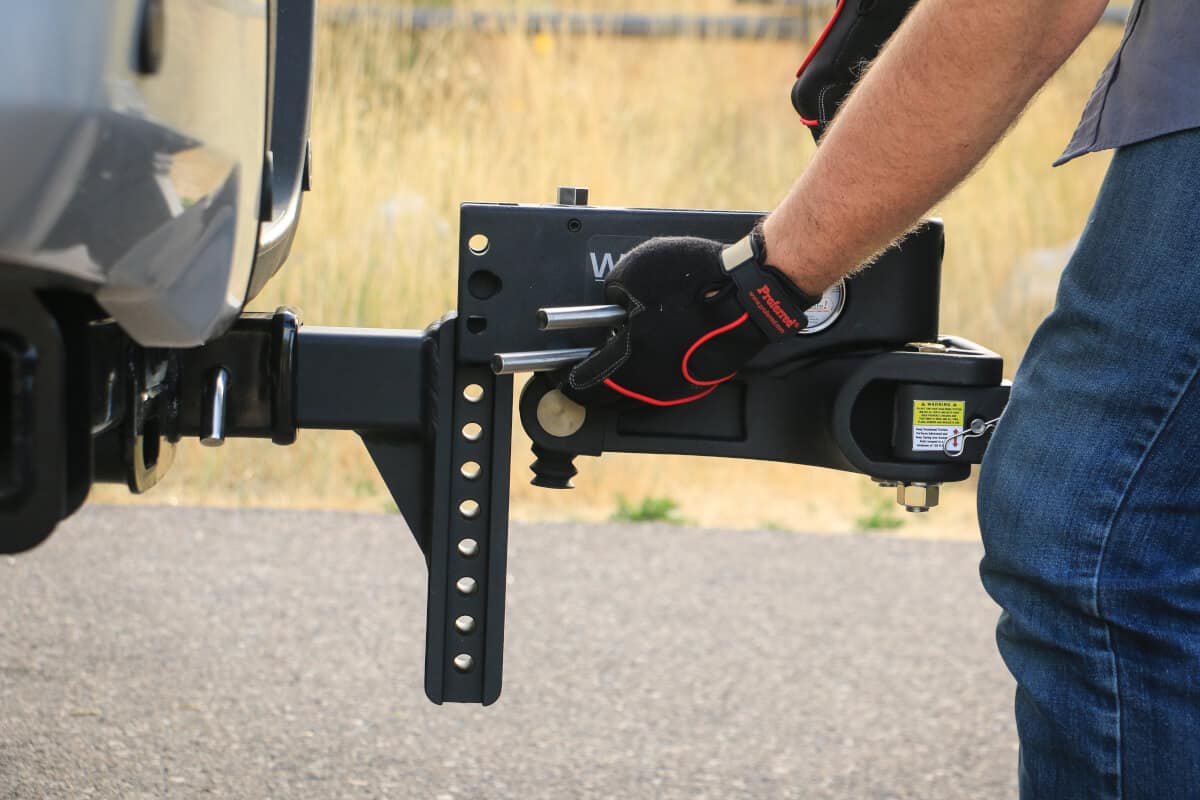 Easy height adjustment using our dual pin key lock assembly providing safety from theft and ease with 1" hole increments to provide more accurate height adjustment.
 Installing a weight distribution system has never been easier, as our True Tow Hitch comes with the following benefits regarding easy height adjustment:
Fully adjustable draw bar 

1" hole increments

A dual pin key lock assembly
A fully adjustable draw bar that can be used in both the rise and drop position means that you have a full range of options when it comes to trailer height. The 1" hole increments along the drop/rise portion of our draw bars provides a more accurate height adjustment than competitor hitches who's increments are at 1.75".
A dual pin key lock assembly not only securely locks the head assembly in place but provides safety from theft. This lock can be keyed alike to a hitch locking pin as well as other Weigh Safe locks that will soon be available on our website.
To change the head assembly height, simply remove the dual pin key lock assembly, slide the head assembly to the desired height and reinsert the dual pin to lock in place. This is super convenient when you tow an array of different trailers, each with different coupler heights as you can use the same hitch for all of them!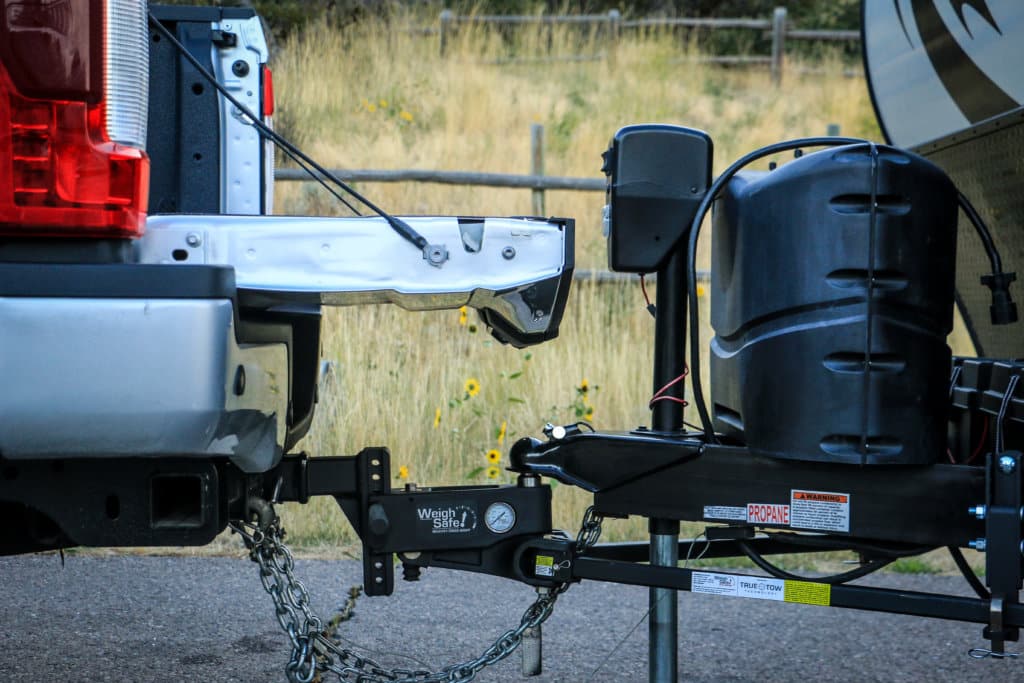 An extended sleek design that generally gives you the ability to lower your tailgate or open your liftgate without the trailer tongue/jack interfering.
Many of the designs that are currently on the market make it so that you are unable to lower your tailgate or open your liftgate without worrying if you are going to damage your vehicle from it hitting the tongue of your trailer or trailer jack. Our extended hitch head on the True Tow Hitch makes it so that you are free to drop your tailgate when you need to. This extended design makes it so that generally, with most vehicles out there, you are able to open your tailgate/liftgate with ease without hitting anything. It gives you full range to use your tow vehicle how it should be used all while towing a properly distributed trailer with towing peace of mind.
The added length to the hitch head has also increased the turning radius of the vehicle and trailer, which has increased performance.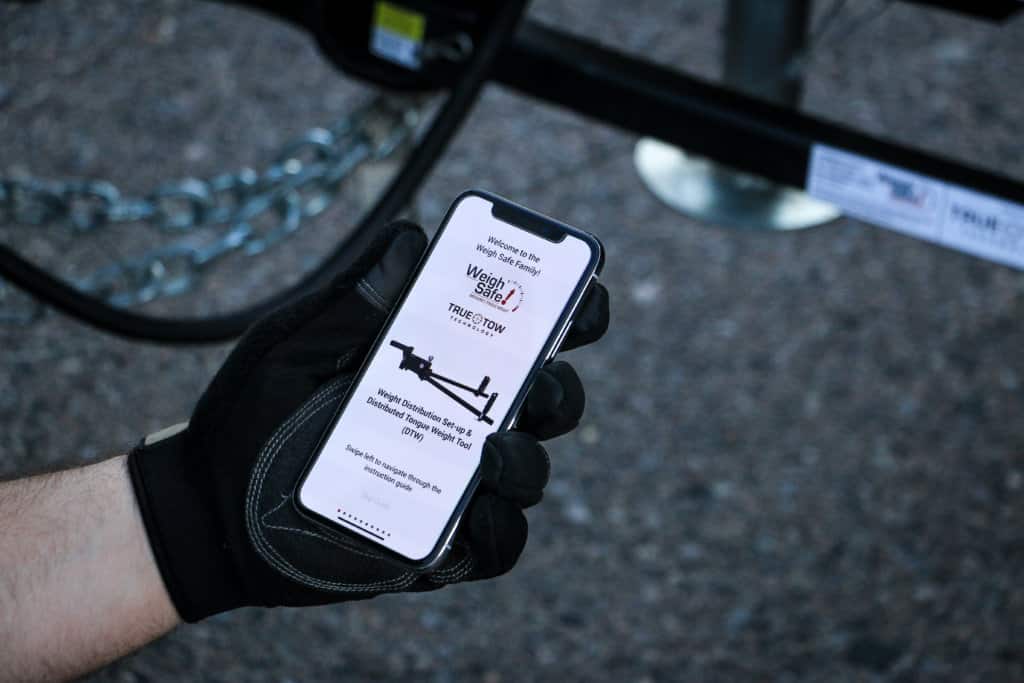 DTW (Distributed Tongue Weight) tool application for smartphones or available on our website to set up the highly accurate distributed system by outputting a DTW that the Weigh Safe gauge on the hitch will read when distributed correctly. 
This app is available for both android and iOS and is available on our website in the case that you don't have a smartphone or don't have access to one. 
This app is designed to set up the highly accurate distributed system by outputting a Distributed Tongue Weight that the Weigh Safe gauge will read when distributed correctly and accurately. This robust app makes it even easier to install and set up your hitch, and makes it easier to save your settings for future reference and setups for different towing applications/systems. 
There are a handful of other helpful tools included on this app as well. A Pre-Tow Checklist is included to help you check and verify different aspects of your towing set up. It sort of gives you a visual of everything that needs to be checked off your pre-tow checklist prior to hitting the road so that you're not going off of memory and risk not checking something. Trailer connection, load, tires, lights, trailer brakes and mirrors are among the categories on the checklist that you physically need to "check off" on the app.
The True Tow Weight Distribution Hitch owner's manual/instruction guide is included on this app so that you are never without steps on how to setup/adjust your hitch. A maintenance page is also included so that you can keep your hitch looking and functioning brand new! A frequently asked question page is also a handy tab included in this app. If you ever have a question about your True Tow Weight Distribution Hitch, check there first to see if we answer your question prior to calling our Customer Support team. If you still have questions, our Customer Support team is more than happy to assist you with any questions or concerns regarding your True Tow Weight Distribution Hitch.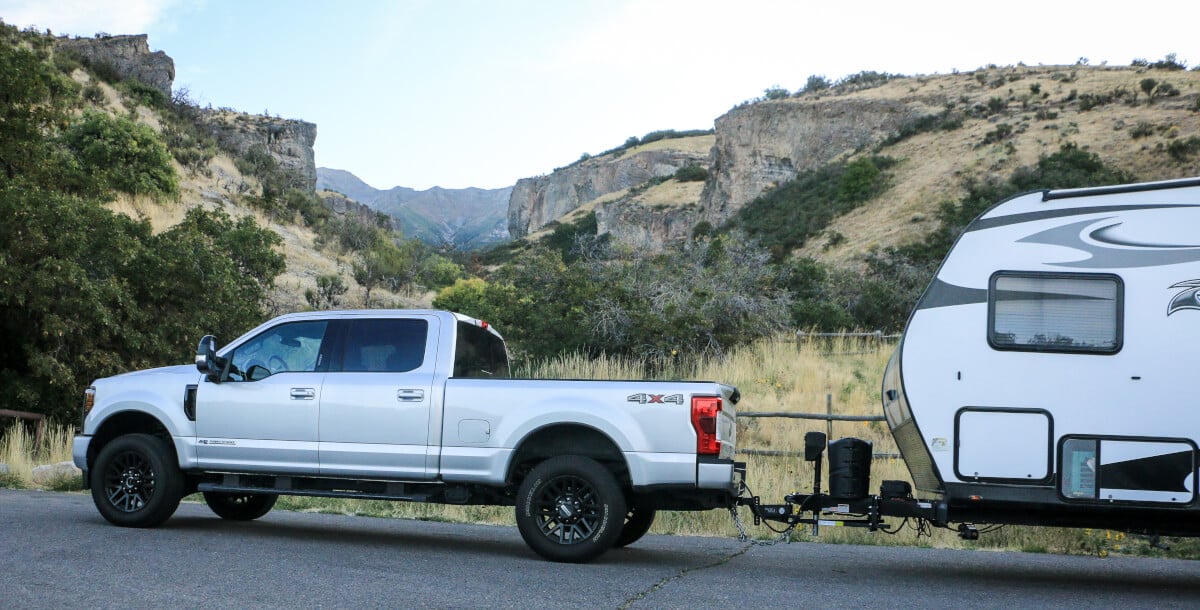 It truly distributes the tongue weight of the trailer between the back axle of the tow vehicle, and the axle(s) of the trailer and returns the lost weight off the front axle to provide the customer a safer and smoother ride.
When a trailer is hooked up to a tow vehicle, that trailer is placing an increased amount of weight on the rear end of the tow vehicle. The True Tow Weight Distribution Hitch helps spread the tongue weight of the load off of the rear axle and levels it out across the other axles to restore balance. 
To get a better understanding of what is happening, this weight distribution is much like a wheelbarrow. Using the spring arms (like the handles of the wheelbarrow) to lift and leverage the rear end of the tow vehicle, therefore distributing that lifted weight onto the other axles. Once the weight is distributed across all axles, driving performance is increased, stress on your vehicle is reduced and a smooth and level ride with the ability to maximize the capacity of your hitch is achieved.
It is important to know that while the weight distribution hitch redistributes weight and balances your load, it does NOT increase the total amount of weight that your tow vehicle can handle. You should only tow as much as your lowest-rated component and always abide by the towing capacities of your tow vehicle and trailer.
Our DTW tool is what assists the True Tow Hitch in truly distributing your load. The calculations made on the backend of the DTW tool helps you to know how much weight needs to be distributed to truly balance your load.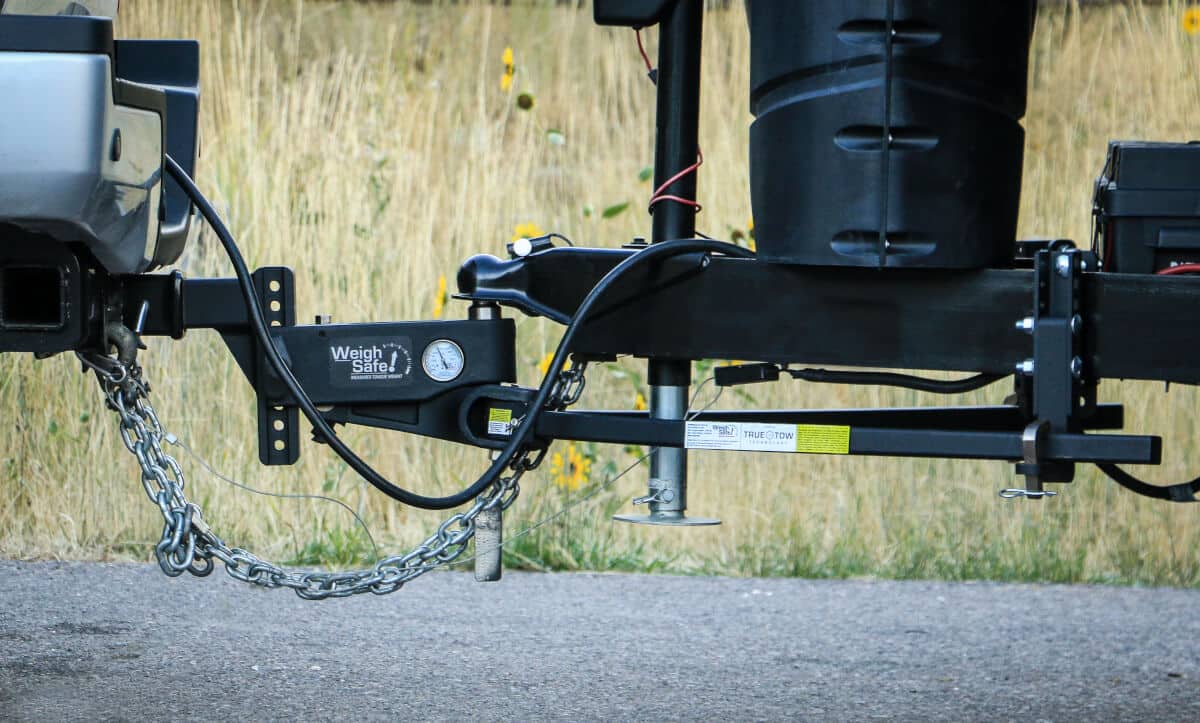 Provides anti-sway friction areas that help to reduce sway caused by wind or passing vehicles. 
The anti-sway friction areas reside in the sway bar connection points in the head assembly and the trailer bracket connection points. The downward force from the trailer tongue onto the tow ball and the upward force from the spring arms is what initiates the sway control. The spring arms evenly transfer tongue weight and work with the friction sway control to minimize trailer sway. The trailer brackets utilize friction to resist spring arm movement and distribute weight by keeping upward pressure on the spring arms.
Prior to our True Tow Weight Distribution Hitch, the industry has provided incomplete solutions to weight distribution.  Weigh Safe is grateful to finally be able to provide the industry with a TRUE TOW for weight distribution that gives you not only a tongue weight measurement but a true distributed measurement to ease your mind and give you TRUE Towing Peace of Mind.