Cerakote Black Weigh Safe 180° Hitch
Cerakote Black Weigh Safe 180° Hitch
$274.99 – $394.99
7500 lbs – 1-7/8" ball
8000 lbs – 2" ball
12,500 lbs – 2-5/16" ball (2" shaft)
18,500 lbs – 2-5/16" ball (2.5" shaft)
21,000 lbs – 2-5/16″ ball (3″ shaft)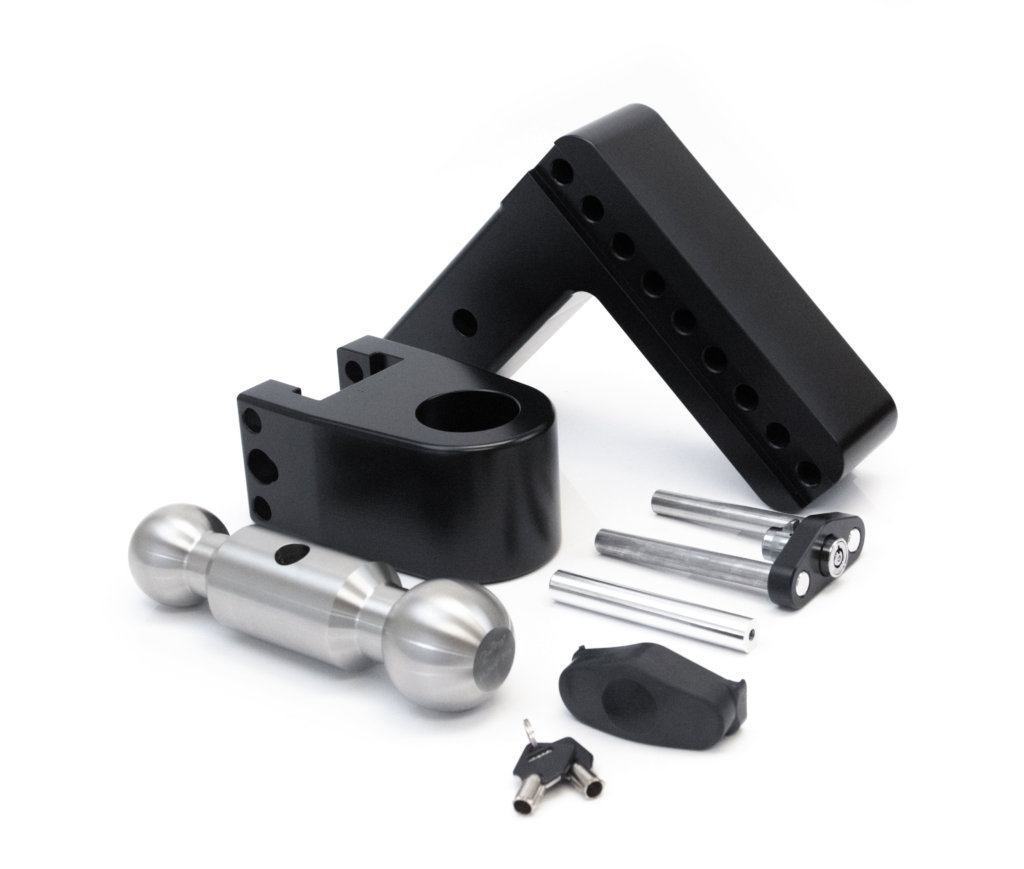 Cerakote Black Finish
Cerakote is a Polymer-Ceramic Composite coating that can be applied to metals, plastics, polymers and wood. The unique formulation used for Cerakote ceramic coating enhances a number of physical performance properties including abrasion/wear resistance, corrosion resistance, chemical resistance, impact strength, and hardness. Each of these properties is rigorously tested to guarantee that Cerakote products remain at the forefront of the ceramic coatings market. Cerakote ceramic coatings utilize state-of-the-art technology to out-perform any competitive coating in both laboratory settings and real world applications. ***The Cerakote finish is NOT covered under product warranty.
Features a 2″ and 2-5/16″ Stainless Steel Combo Ball.
21,000 LBS Max GTW
2200 LBS Max Tongue
V5 & J684 Certified
180 Download Hitch Installation Guide
Features
4″ Drop Hitch
6″ Drop Hitch
8″ Drop Hitch
10″ Drop Hitch
Built-in Scale

×

Shaft

2″, 2.5, or 3″

Ball

2" & 2-5/16" Stainless Steel or Chrome Plated Steel Balls, 1-7/8 & 2" ball option

Max GTW

7500 lbs – 1-7/8" ball
8000 lbs – 2" ball
12,500 lbs – 2-5/16" ball (2" shaft)
18,500 lbs – 2-5/16" ball (2.5" shaft)
21,000 lbs – 2-5/16″ (3″ shaft)

Max Tongue

1,500 lbs (2″ Shaft), 2,200 lbs (2.5″ & 3″ Shafts)

V5 & J684 certified

✓

Drop Hitch Adjustment

1" increments

Weight
16 lbs
18 lbs
19 lbs
20 lbs
Hitch material

Aircraft Grade Aluminum and Stainless Steel

Pin

Dual pin key lock assembly included

Rise

All hitches may be used in rise position *Gain 1 inch (e.g. 4" drops are 5" rises)

Total Height

Add 3 inches (*e.g. 4" drops measure 7 inches from the top of the receiver to the hitch base)

Hitch Pin Hole

5/8″ Diameter

Compatible with Clam Shell

×

Compatible Tow Balls

Compatible ONLY with the 180 Hitch combo ball, NOT compatible with the single Weigh Safe tow balls

Stowable

✓

***Our 180 Drop Hitch 3″ shank sizes & 4″ drops are NOT stowable
You may also like…
***Any additional locks ordered with a hitch will be automatically keyed alike to your hitch.