The Only Hitch That Measures Tongue Weight: The Weigh Safe Adjustable Ball Mount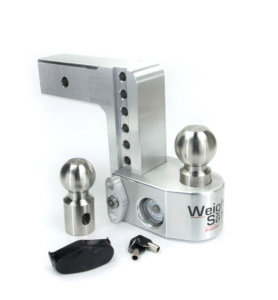 The Weigh Safe Drop Hitch is our aluminum adjustable ball mount with a built-in scale that measures tongue weight. It is the only trailer hitch on the market that has this built-in scale delivering necessary tongue weight information which allows you to adjust your load before you hit the road, resulting in a much safer and enjoyable towing experience. Before the creation of the Weigh Safe Ball Mount, gauging your trailer's tongue weight was a hassle. You either had to 1) rely on inefficient bathroom scales, 2) make a trip to the weigh station or 3) purchase a separate tongue weight scale. Now, with our Weigh Safe Ball Mount, measuring your tongue weight is as easy as coupling your trailer to your ball mount and adjusting your load as necessary to stay within
10-15% of your GTW
without having to uncouple.
Tongue weight measurement on the fly!
If you don't know much about the importance of tongue weight, please check out our previous blog that dives into everything you need to know about tongue weight (click
here
).
This product comes with a set of both the 2" and 2 5/16" stainless steel tow balls (
1 ⅞" tow balls
are also available for purchase) and the hitch itself is aircraft grade aluminum. Very Corrosion Resistant! Best in class! All you have to do is slide the sliding ball mount off of the draw bar, remove the ball retaining pin to release the tow ball and swap it out. It comes in the following sizes and has a max
GTW
as follows: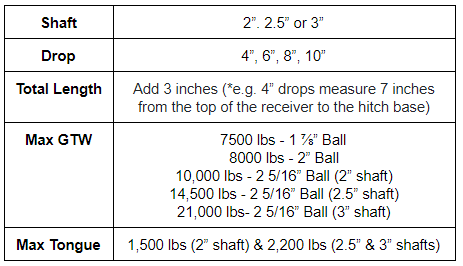 How does this built-in gauge work? The weight of your trailer will push down on the hitch ball, which in turn pushes down on an internal hydraulic piston that sits on a bed of oil. When the piston drops into the oil, the pressure reading is sent out to the scale.
It is important to know that anything between 0-100 pounds on the gauge is considered "zero". There is a dampener built into the gauge to protect it from spiking anytime you hit a bump or dip while driving which sometimes will make it slow to read the applied weight. Lighter loads of 300 pounds of tongue weight or less will sometimes take a couple minutes to read accurately whereas heavier loads with 500 pounds of tongue weight or more will usually read a lot quicker. It is also important to know that our gauges are accurate within +/- 50 pounds.
This product has revolutionized the adjustable drop hitch industry as it continues to grow in demand across the country and globe.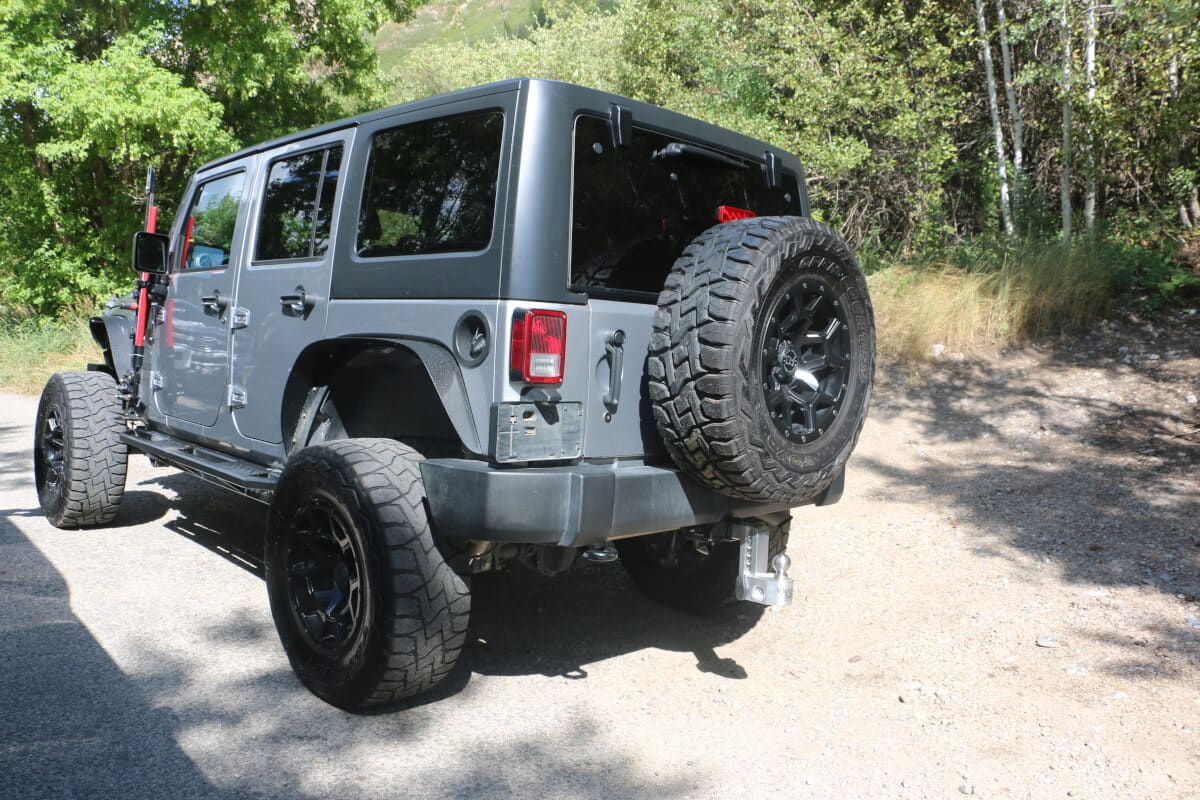 If you have any problems with your product, you will need to fill out a
Return Request
on our website. We require that this form be filled out including a proof of purchase and a photo of the concern. It is important to note that there is no calibration needed for the gauge. Once you submit the Return Request, our customer support team and engineering team will diagnose the issue and determine the best resolution for the situation. Once that is done, you will be contacted and potentially issued an RMA (Return Merchandise Authorization) number.
We offer a 1 year warranty on the entire product which includes a limited lifetime warranty on the gauge itself. This means that at any point of the life of your hitch, we will repair the gauge at no cost, unless you have owned your hitch for over 1 year. If so, you will be required to pay shipping costs to and from our factory. Other than that, we cover the rest of the cost. FYI… this rarely happens (less than 1% of the time) but we want to make sure that the gauge is always offering the solutions you need.
When deciding what size hitch to purchase, we recommend at least 11" of clearance from the bottom of your loaded trailer hitch to the ground, which will give you some leeway for bumps and dips (click here for a video on how to determine what size hitch you should purchase). All of our adjustable drop hitches measure 3" longer than the listed drop, for example the 10" drop hitch is actually 13" in total length (see chart above).
You can also use this hitch in the rise position and the weight ratings remain the same as in the drop position. It is important to always secure your hitch to your vehicle using a
hitch locking pin
(which we sell separately and can be keyed alike to the dual pin key lock assembly on your hitch) and equally important to make sure your dual pin
key lock assembly
is inserted correctly. Double check to make sure both are locked and secure by pulling on them, then insert the dust cover tightly on each one before hitting the road. This will ensure everything stays connected with a decreased chance of debris getting inside the locks and will create a towing peace of mind on your journey. Here is a video about our Weigh Safe Drop Hitch:
https://www.youtube.com/watch?v=oltPi4q13G0