Everything You Need To Know About The Weigh Safe 180 Hitch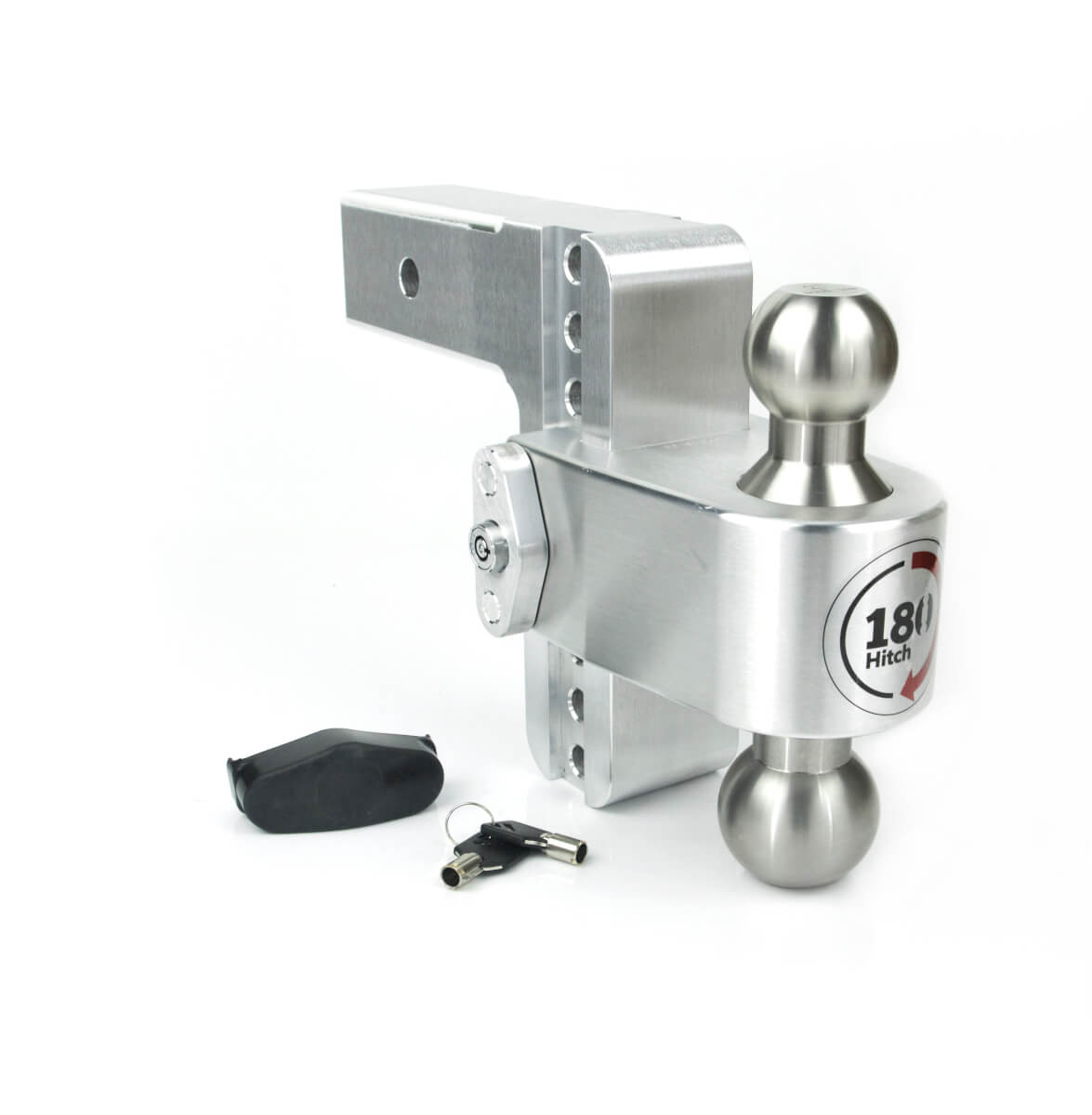 The Weigh Safe 180 Hitch is our aluminum turnover adjustable drop hitch that features a 2 and 2 5/16 inch tow ball combo for quick and easy ball changes. If you happen to tow smaller trailers, we also have a 1 ⅞ and 2 inch ball combo as an option as well (**As a side note, the
clamshell
2" tow ball converter is not compatible with the 180 hitch). These ball combos are available in either a stainless steel or chrome-plated steel option (the actual hitch itself is made from aircraft grade aluminum); the stainless steel option is a bit more expensive due to the fact that it won't rust but the extra couple bucks is well worth it. This hitch comes in the following sizes and has a max
GTW
as follows: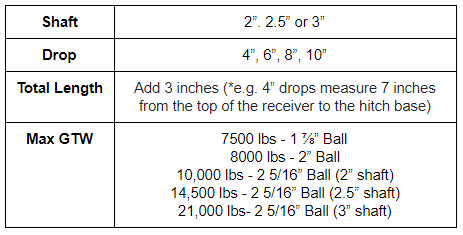 When you receive your Weigh Safe 180, the ball combo will already come assembled inside of the slider and will be secured with a
hitch ball pin
/ball retaining pin (see image below). This pin is not meant to come out but on the rare occasion that you need to pull that out, you will need to use a ¼-20 screw to stick into the threaded end of that pin. This gives you a "handle" or a leverage point so that you can pull that pin out. This is a very common question and misunderstanding among our customers, so please remember that the screw is only meant to be able to pull that pin out, as it won't just magically fall out once you screw it into the pin (shocker). You actually have to put in some effort and pull it out!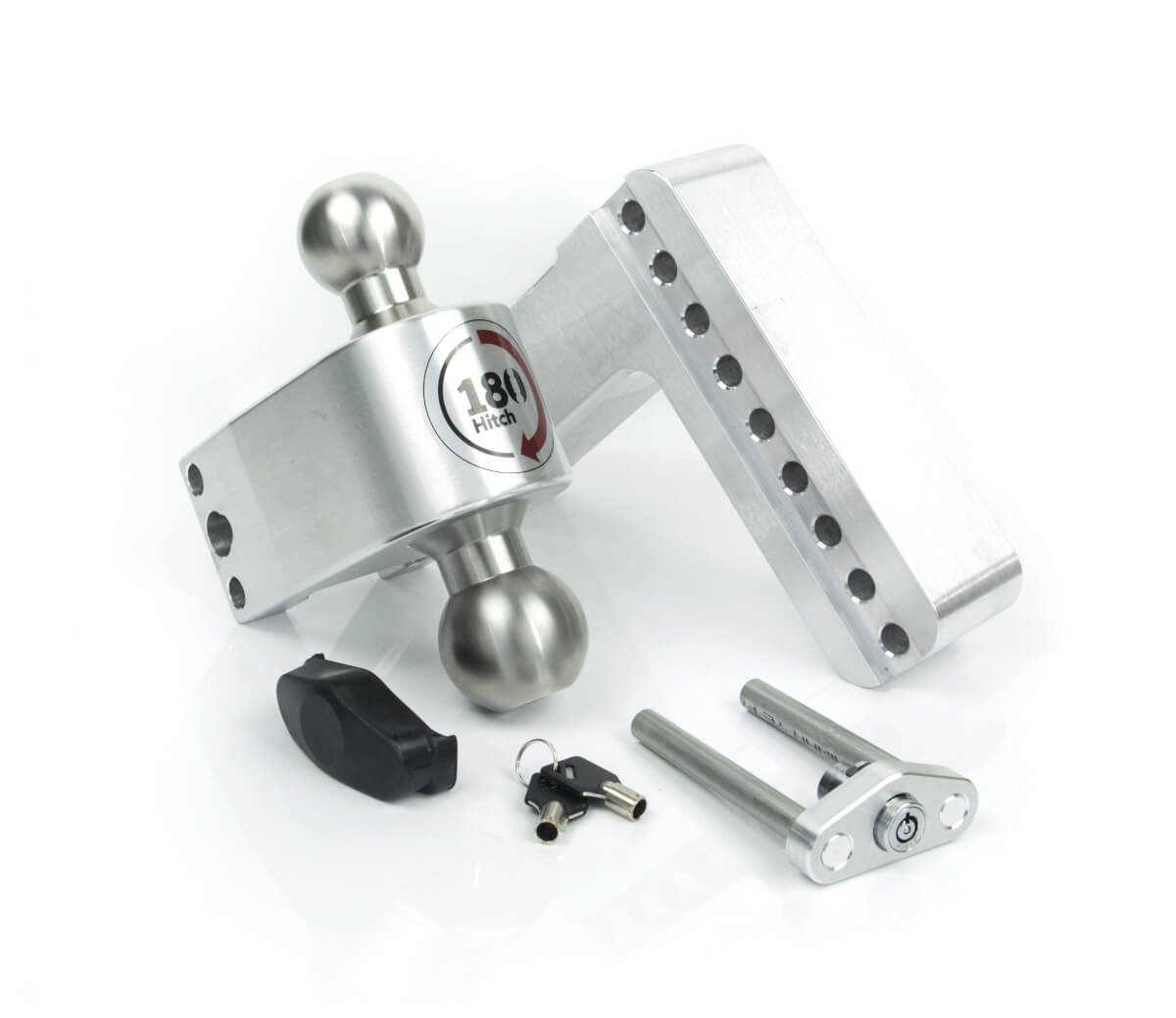 Here are some common misconceptions and important considerations when purchasing our 180 hitch:
A common misconception about the 180 Hitch is that you have to pull that pin and internal tow ball combo out and flip it around to use the bottom ball. FALSE! Yes, the product sticker may be upside down in the inverted position, but you do not need to pull out the pin and flip the ball combo. All you need to do is rotate the entire slider mount 180 degrees, which requires much less time.
Another important consideration to take into account when researching which hitch is best for you is that the 180 hitch does NOT have a built-in gauge that measures tongue weight. Our Weigh Safe Drop Hitch, Fixed Height, and Universal Tow Ball all have the built-in gauge but the 180 does not, so don't be disappointed when you get your 180 hitch and it is "missing" the gauge…the gauge isn't supposed to be there so it would be concerning if it was!
Something that doesn't typically cross your mind is that the bottom tow ball could potentially hang so low that it scrapes, which is important to note when measuring what size drop length to purchase. We recommend at least 11" of clearance from the bottom of your loaded trailer hitch to the ground, which will give you some leeway for bumps and dips (click here for a video on how to determine what size hitch you should purchase). On top of that, you have to take that bottom ball into consideration. All of our hitches measure 3" longer than the listed drop, for example, the 10" drop hitch is actually 13" in total length (see above) which means that if you have the slider at the lowest setting, your hitch is actually an additional 3" longer than that. So a 10" 180 drop hitch on the lowest setting is actually around 16" long. (Customers often purchase a single Weigh Safe tow ball for their 180 hitch so they do not have that bottom ball hanging down. This does NOT work. Single tow balls are NOT compatible with the 180 hitch, only the ball combos are compatible.)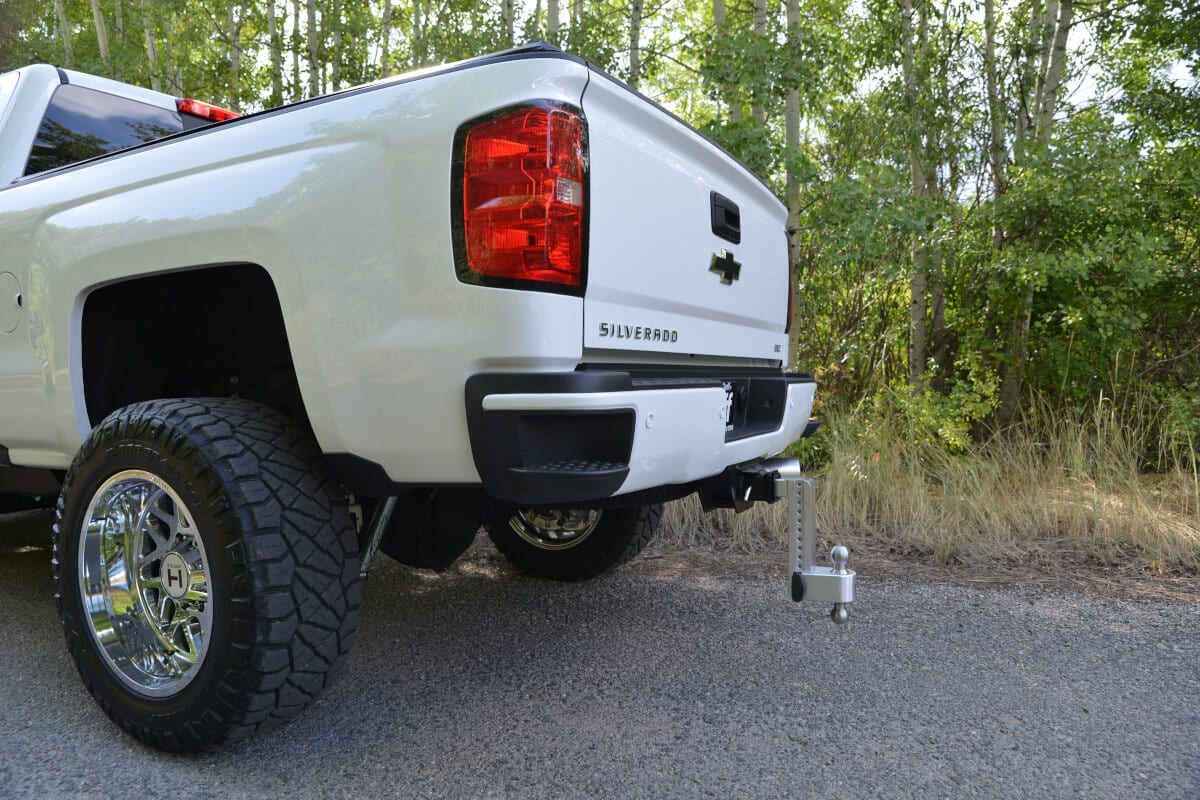 You can also use this hitch in the rise position and the weight ratings remain the same as in the drop position. It is important to always secure your hitch to your vehicle using a
hitch locking pin
(which we sell separately and can key it alike to the dual pin key lock assembly on your hitch) and equally important to make sure your dual pin
key lock assembly
is inserted correctly. Double check to make sure both are locked and secure with the dust cover tightly on each one before hitting the road. This will ensure everything stays connected with a decreased chance of debris getting inside the locks and will create a towing peace of mind on your journey. Here is a video about our Weigh Safe 180 Hitch:
https://www.youtube.com/watch?v=DAhsMbUXoLA