Basic concepts of the tongue weighing hitch
For safest towing, a trailer's hitch should bear a tongue weight between 10% – 15% of the trailer's gross weight (GTW).
With an ordinary trailer hitch, a driver is left to guess, or eyeball tongue weight for balance and stability. But, with a Weigh Safe trailer hitch featuring a built-in gauge that measures tongue weight, a driver is not left to guess, but can ensure tongue weight is exactly within 10%-15% before hitting the road.
The result? A much safer and enjoyable towing experience.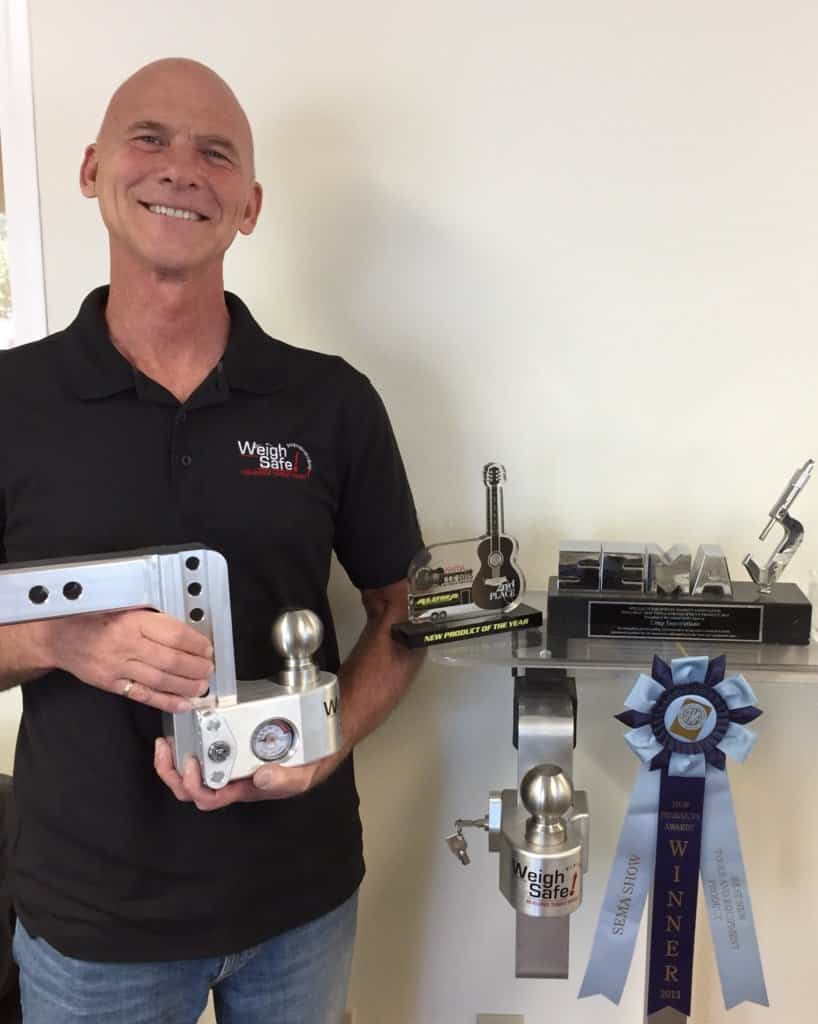 THE BUILT-IN GAUGE
McAllister's built-in gauge design is what makes every Weigh Safe hitch so special. Each one features an internal hydraulic piston that sits on a bed of oil. As a trailer bears its weight down onto the trailer ball, the piston drops into the oil and an accurate pressure reading displays on the scale.
Fact: Weigh Safe Hitches are the only hitches that can measure tongue weight.
buy now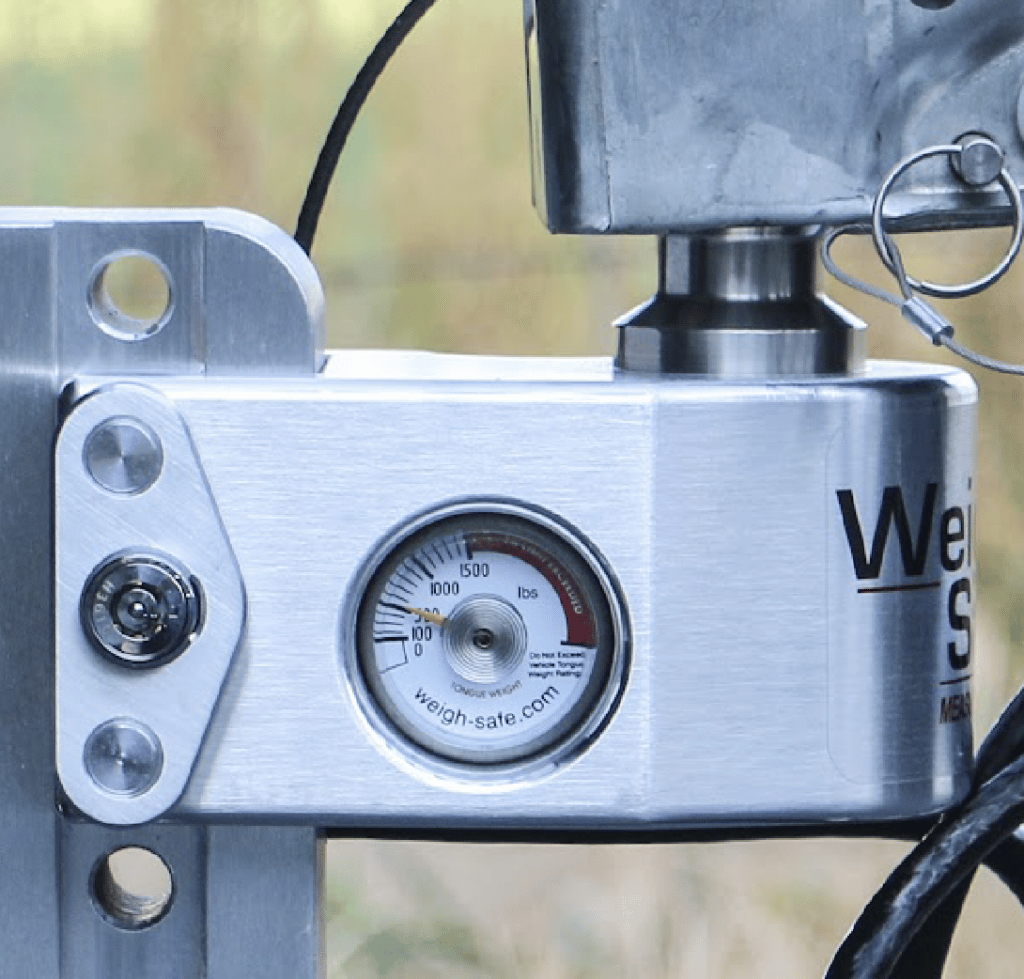 1. Trailer sway: 'fishtailing' or side-to-side movement
If you hook up your trailer with less than 10% of your GTW (Gross Trailer Weight) situated on the tongue of your trailer you will have:
too much of your load situated behind the axle of your trailer

an unlevel tow set-up that "peaks" at the hitch connection

conditions in which

trailer sway will most likely occur
The swaying and fishtailing of a trailer caused by too little tongue weight can roll an 8,000 lbs truck off a highway in less than a second.
2. Rear tire overload
On the other hand, if you hook up your trailer with more than 15% of your GTW situated on the tongue of your trailer you will have:
too much of your load situated ahead of your trailer's axle

an unlevel tow set-up that looks more like a "V" shape, referred to as "jack knife"

conditions in which rear tire overload will most likely occur
3. Unresponsive braking
As you drive, excessive tongue weight can beget enough force to push your truck's back tires around. It also puts your braking system at risk for becoming overwhelmed and unable to find enough traction. Not to mention – any type of frequent heavy braking, with heavy loads, at higher speeds, will run down your brakes and make them less effective.
4. Blown tires
While the weight of your total load may be well within your truck's tow capacity, if you carelessly situate your trailer's cargo in a way that lays too much tongue weight on on the rear of your truck, the back tires of your truck will be shouldering more weight than they are designed to handle. Too much tongue weight while driving on the road can easily cause the most stressed tire to blow out, or come off completely.
5. Traffic accidents and citations
If you cause a traffic accident because you failed to follow safety tow ratings and regulations, it's a violation – and you'll receive a traffic citation.
6. Serious injury or death
And, ultimately, towing with too much – or not enough – tongue weight proves deadly when it results in a crash.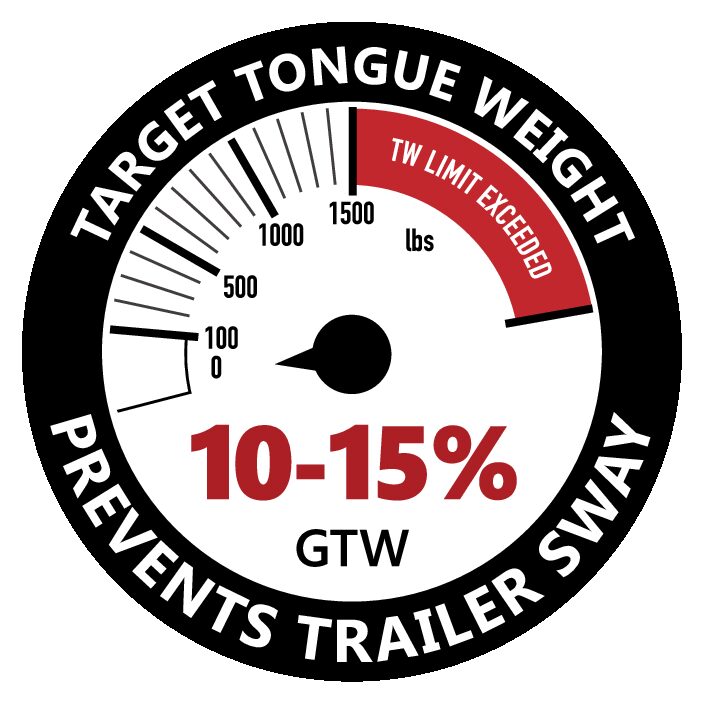 TONGUE WEIGHT IS KEY TO SAFE TOWING
Needless to say, proper trailer tongue weight can make the difference between a safe trailer towing experience and a dangerous one. Assuredly, every driver has the responsibility to load and maintain proper tongue weight for safest truck and trailer performance – not just for the safety of themselves, but for everyone else driving on the shared highways.
Which trailer hitch will work best for you?
One thing is for sure, using a tongue weighing trailer hitch is one of the most effective (and easiest!) ways to correctly measure and adjust your trailer's tongue weight.
But, hold on a minute. There's quite a few different types and styles of tongue weighting hitches.
Each towing situation is different. Consequently, each piece of towing equipment must be exactly suitable for your individual tow set-up. It's essential that you know how to evaluate and select each component of your hitch system.
If you need help getting started, head on over to our: step-by-step guide on choosing a trailer ball hitch size specific to your coupler
Or, if you already have a pretty good idea of what you're looking for, but would like help comparing your options…keep on reading.
MOST UNIVERSAL: THE ADJUSTABLE DROP HITCH
Adjustable drop hitches are popular because they are the most universal of trailer hitches – your secret weapon for towing numerous trailers on an array of different tow vehicles.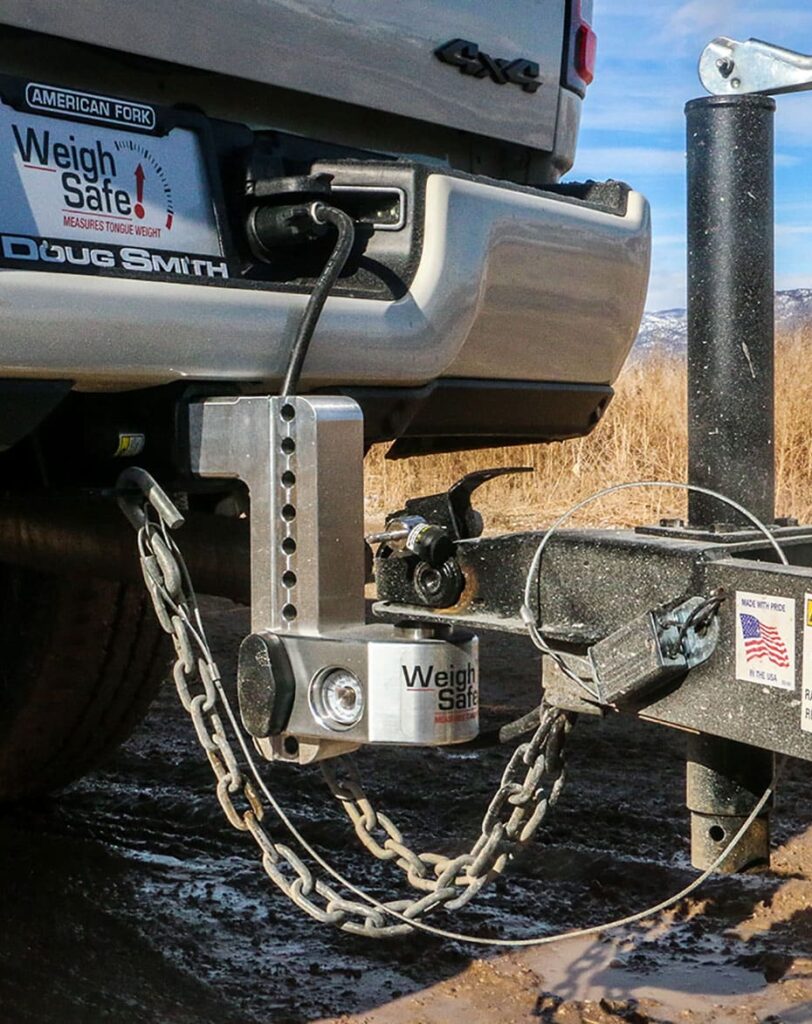 Weigh Safe Adjustable Drop Hitches are the easiest solution for:
making vertical height adjustments

switching between different tow ball sizes

towing a variety of trailer types

measuring tongue weight
ALUMINUM VS. STEEL
Weigh Safe Drop Hitches are crafted in two types: aluminum or steel. Check out the table below to compare the differences between the two, and choose which one suits your towing needs best.
Made of Air-craft grade, 6061-T6511 aluminum

Direct, bold, clean-cut appearance

Lightweight, between 17-23lbs
Made of steel, with black powder coating finish

Zinc undercoating for added protection

Heavier weight, between 31-38lbs
GTW Max: up to 21,000lbs
(depending on size)
GTW Max: up to 18,500lbs
(depending on size)
PROS:
More user-friendly when it comes to lifting and carrying

Corrosion resistant
PROS:
Compatible with the Pintle Attachment

Wear resistant
Expert Tips:
Anti-rust aluminum is the better choice for drivers in humid weather, or in contact with water regularly.

Over time, aluminum can wear faster than steel. To counter this, Weigh Safe Aluminum hitches are crafted with more material in a solid shaft, instead of a hollow shaft.
Expert Tips:
Steel is not as compressible as aluminum, which means it has greater fatigue-resistance over its lifetime.

Weigh Safe steel drawbars are crafted with hollow shafts, helping to reduce overall weight.

Zinc coating adds additional protection to make steel less prone to corrosion.
Care and Maintenance
Use regular soap and water to get rid of any road debris, dirt, salt, etc.

You can also use a fine-grit sandpaper to polish and shine aluminum.

No need for any grease or recoating.
Care and Maintenance
Store steel hitches away during the winter months, or if you live in a humid environment/are exposed to water regularly.

If the powder coating becomes worn, use grease or a black spray paint to cover exposed spots and prevent corrosion.

Use soap and water to get rid of road debris, dirt, salt, etc.
THE NEW PINTLE DROP HITCH
Yes, Weigh Safe now offers a tongue weighing pintle hitch. A pintle hitch is particularly useful for rugged, heavy-duty towing as it can provide a bigger range of motion, handle off-road terrain, and have higher towing capacities.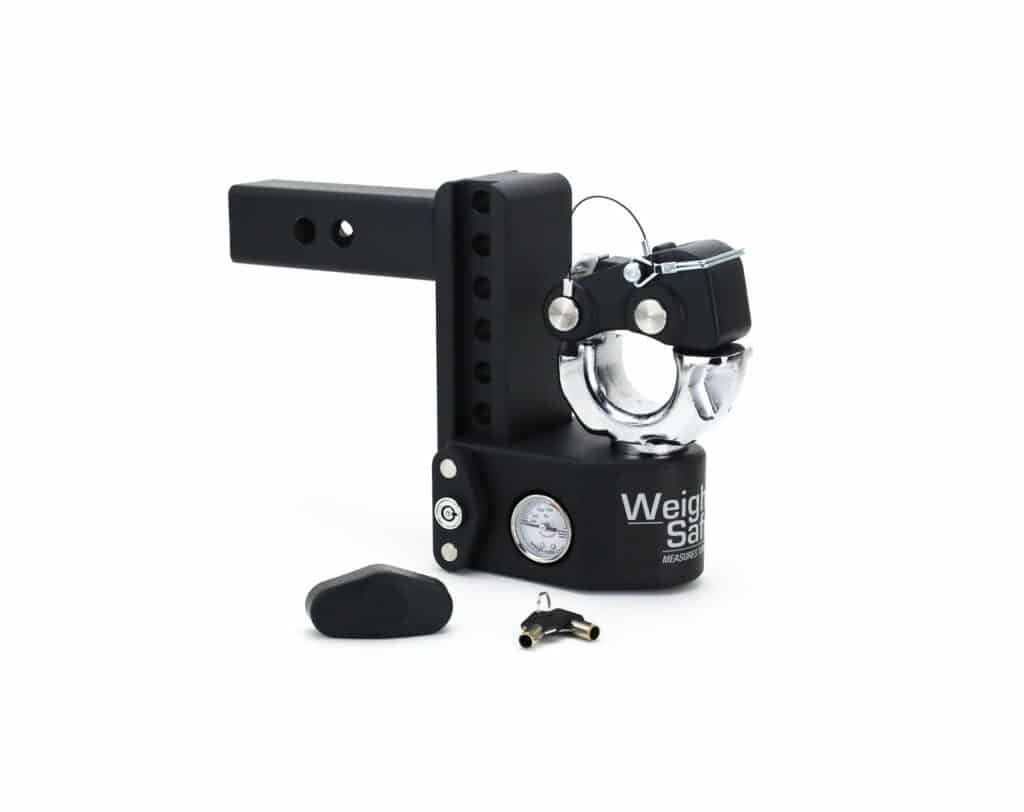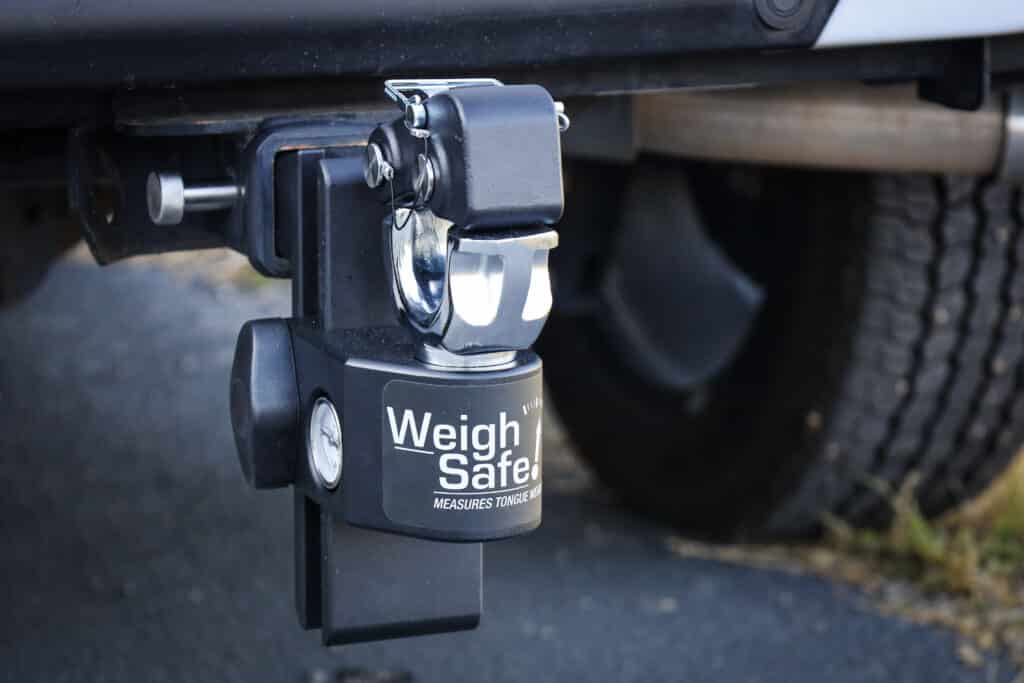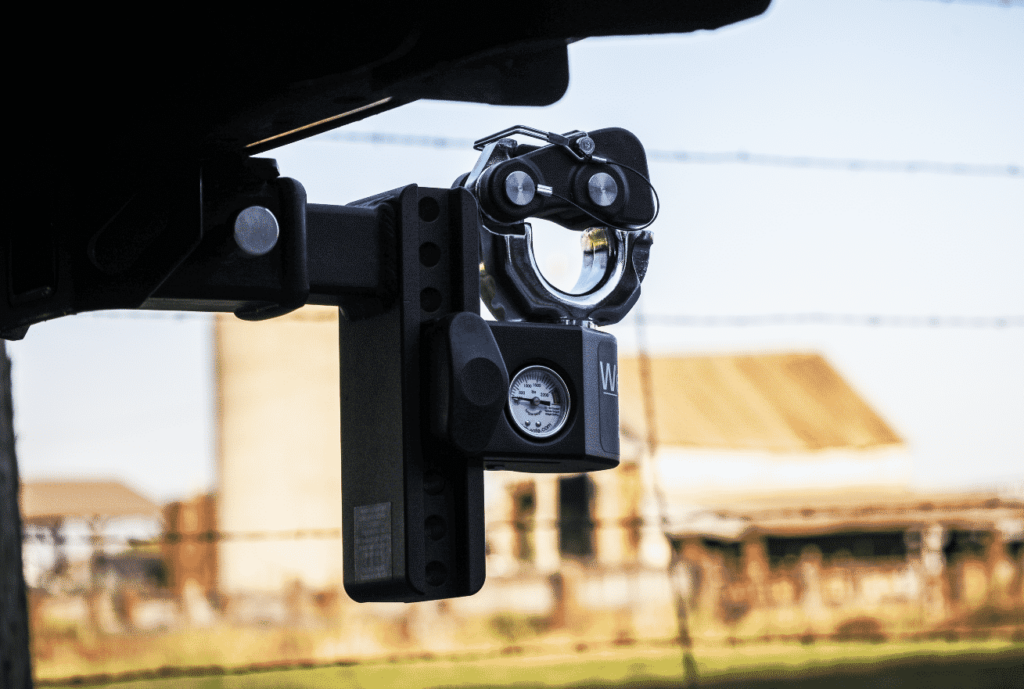 The Steel Weigh Safe Pintle Hitch is made with high strength carbon steel, chrome plating and powder coating. As such, it features similar benefits as the other steel Weigh Safe drop hitches:
GTW Max

: up to 18,500lbs (depending on size)

Heavier weight

:

between 31-38lbs

Wear resistant
Main points of difference:
The Steel Pintle Hitch is compatible with 2″ and 2-5/16″ single Weigh Safe tow balls

The pintle attachment included with this hitch can only be used with Weigh Safe's steel product line. The pintle attachment is not compatible with Weight Safe aluminum drop hitches.

This particular adjustable pintle hitch cannot be used in the rise position.
Have we peaked your interest in pintle drop hitches?
Get answers to any more questions by checking this article out: New Weigh Safe Pintle Attachment For Rugged and Heavy-Duty Towing
WEIGHT DISTRIBUTION HITCH
Talk about kicking sway control up a level. Weigh Safe's True Tow Weight Distribution Hitch system not only features a built-in tongue weighing gauge, but also an app that accurately calculates what your distributed tongue weight (DTW) should be for safest towing.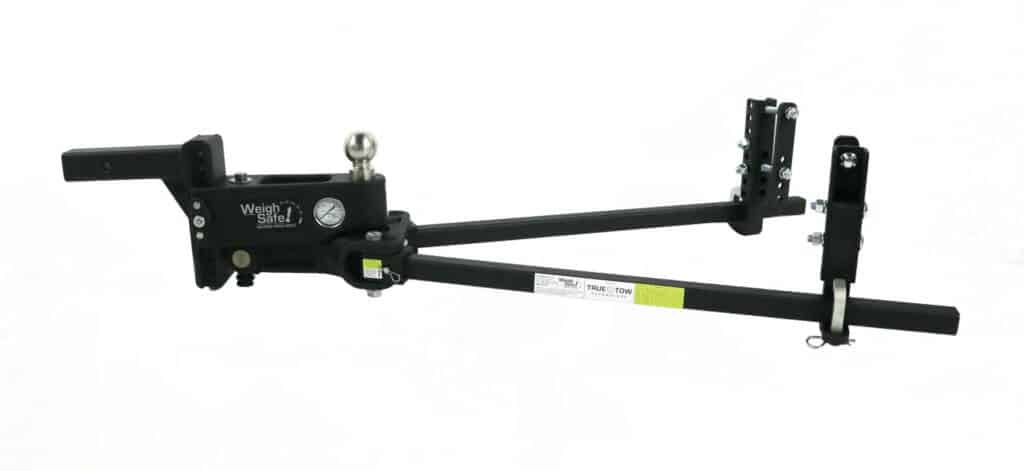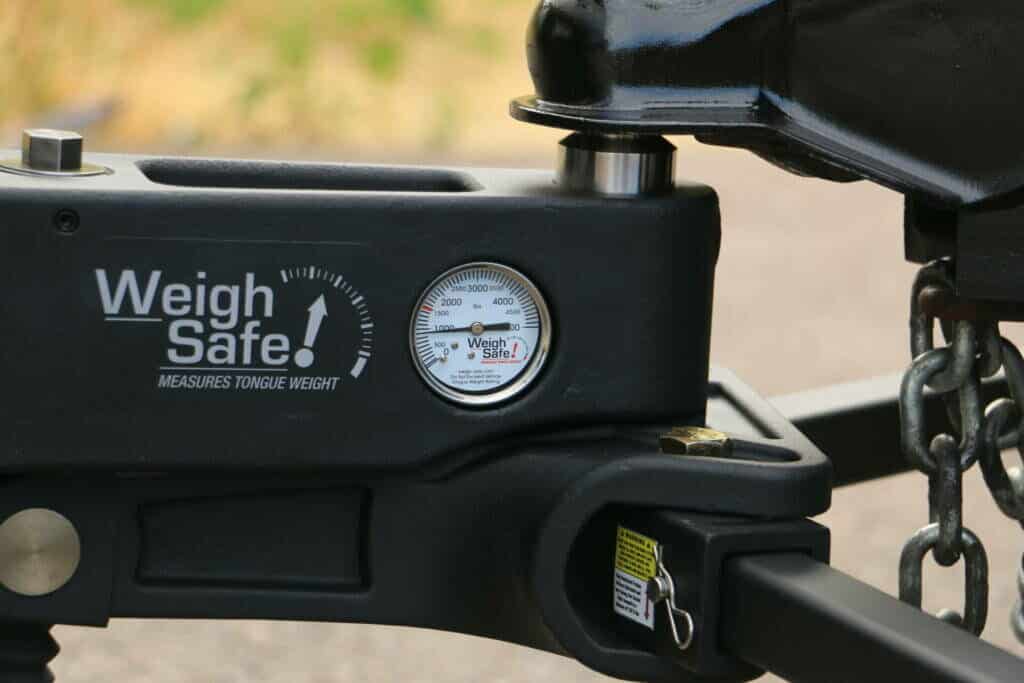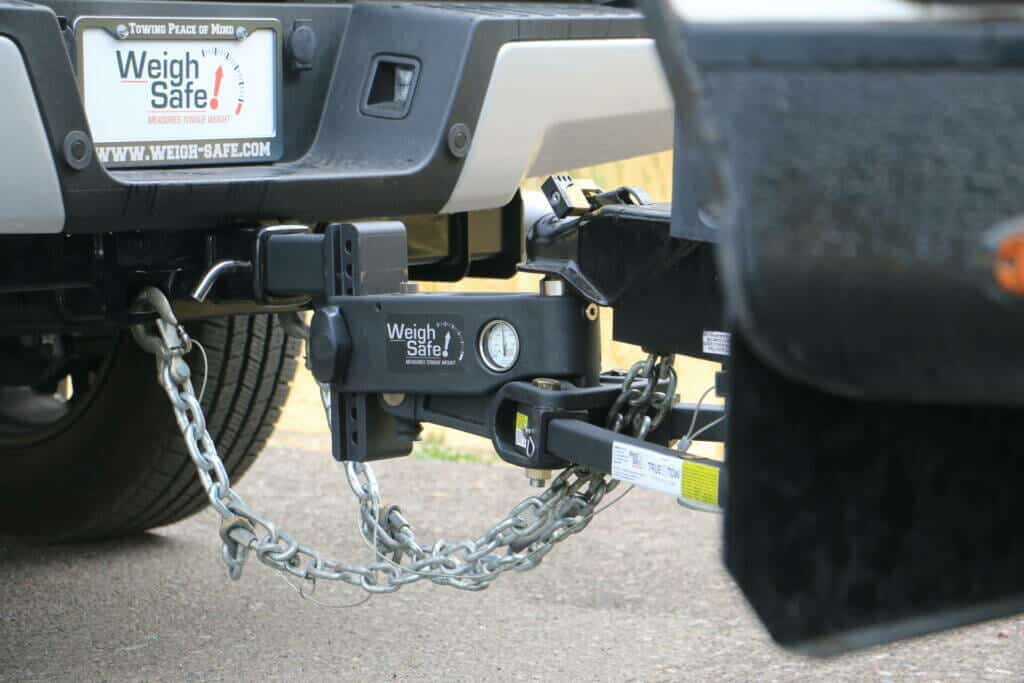 Drivers towing more than 5,000lbs require additional sway control – and that is where weight distribution hitches come in. Most significantly, Weigh Safe's True Tow Weight Distribution Hitch involves calculating and verifying the exactness of the weight distribution so that your hitch can truly deliver:
Even weight distribution (Up-and-down motion)

Anti-sway stability (Side-to-side motion)

Increased trailer tow capacity

Better driving control and stability

Less wear on your truck and trailer

Safer braking and steering
Main points of difference:
Built-in gauge

helps you measure tongue weight (TW) and distributed tongue weight (DTW) to ensure you've set up your distributed system with exactness.

Live adjustment system

eliminates the need to remove the head assembly for re-adjustment – resulting in a much easier and quicker installation, every time you adjust

Extended design

generally gives you the ability to lower your tailgate (or open your liftgate) without the trailer tongue/jack interfering

Accompanying app

calculates your required DTW.

GTW Max

: up to 20,000 lbs

Wear resistant.

As with other Weigh Safe steel hitches, it is painted with high-strength powder coating for rust and corrosion resistance

This steel hitch is not compatible with any of the Weigh Safe aluminum components.
Your truck's owner's manual should provide you with specifications regarding weight distribution use. For instance, the 2018 Chevy Traverse owner's manual states that weight distribution and sway control are required when towing a loaded trailer over 5,000 lbs. Most commonly, this applies to heavier cargo trailers such as campers and toy haulers.
Wondering if your next towing adventure will require a weight distribution hitch? Find out by checking out our Complete Guide to Towing with a Weight Distribution Hitch.
If you're towing heavy-duty loads (loads weighing 16,000 – 30,000 lbs, or more) you'll need an in-bed gooseneck or 5th wheel hitch system that is more robust. Because gooseneck trailer hitches are designed to handle larger loads, their target tongue weight is typically 15% of a loaded trailer's weight – and should never exceed 25%.
Weigh Safe gooseneck hitches feature built-in tongue weighing gauges to ensure your tongue weight measures right on target for safest towing. Here are the three types to choose from: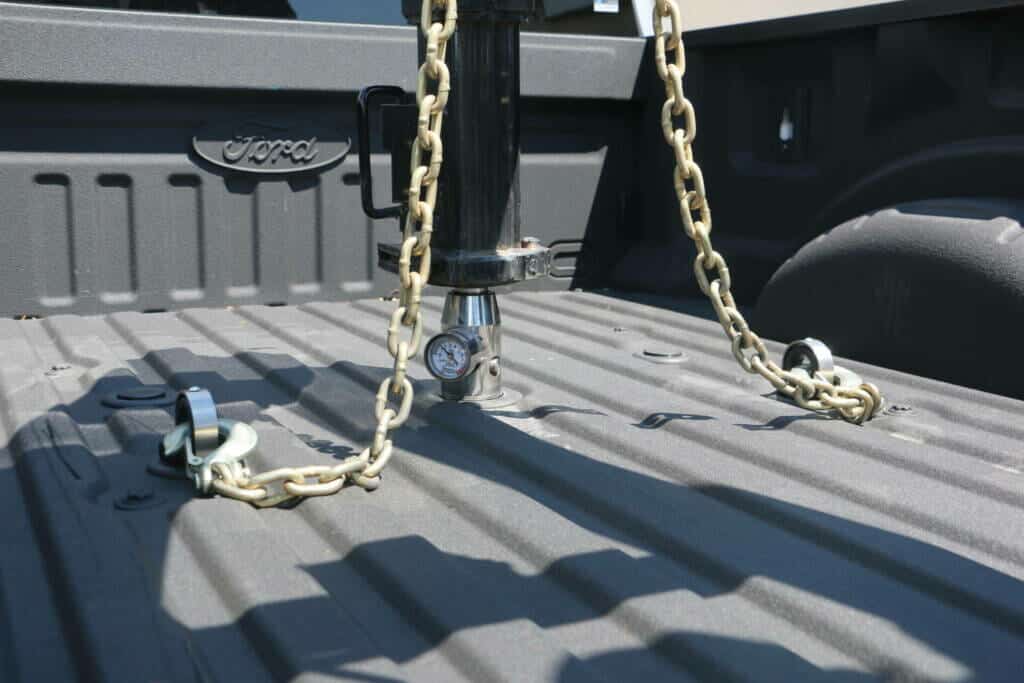 PUCK SYSTEM GOOSENECK
For trucks equipped with an original factory puck system
Requires: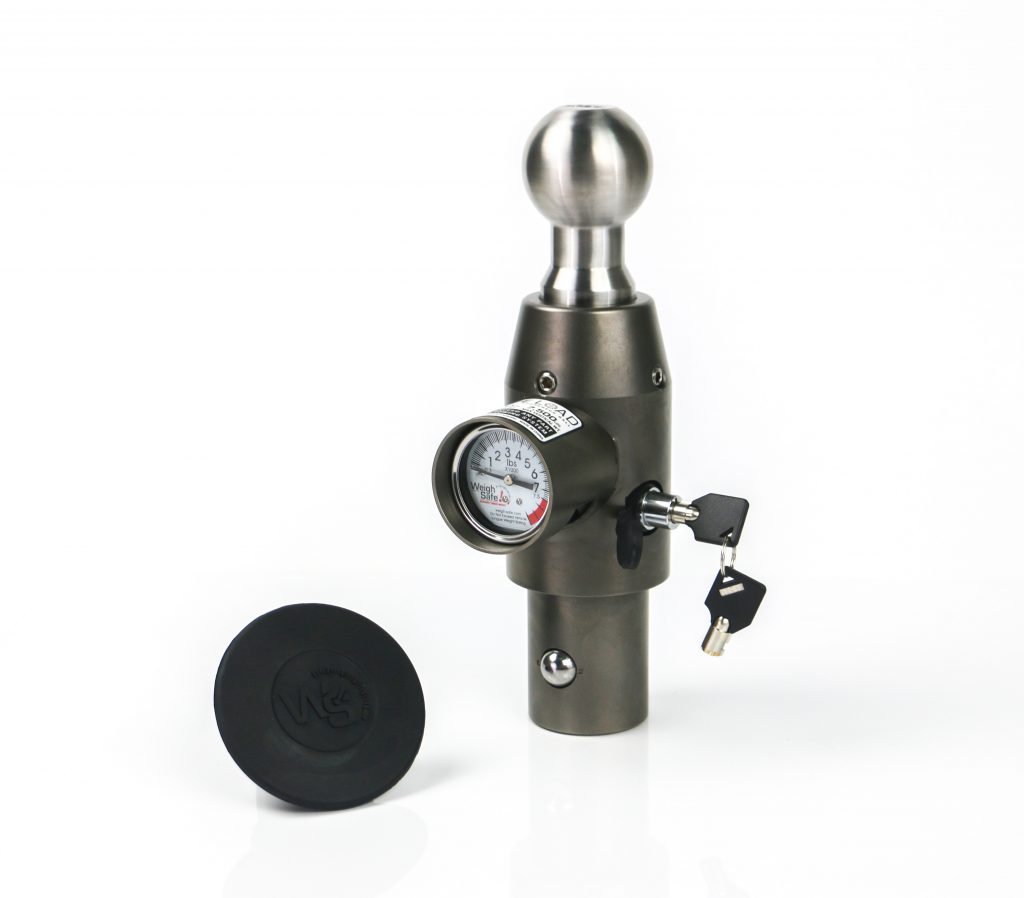 Max GTW: 30,000lbs
Machined Stainless Steel with matte finish
Weight: 16lbs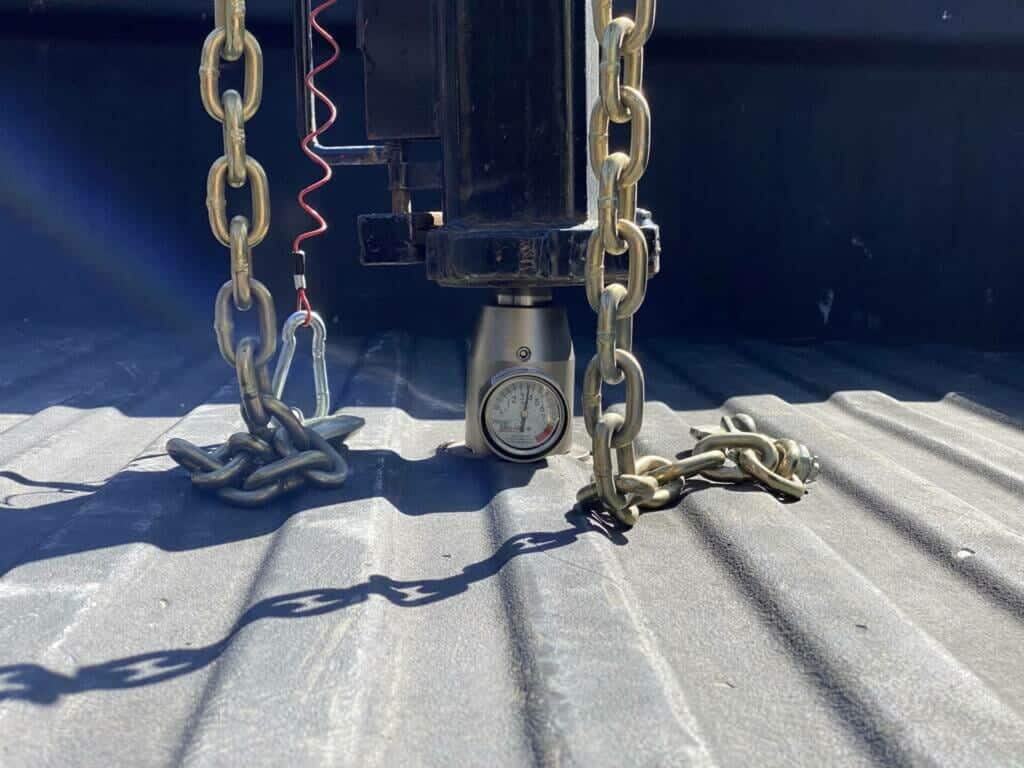 TRADITIONAL GOOSENECK
For trucks that do not have a factory puck system but rather a B&W Gooseneck Hitch and use traditional underbed brackets
Requires: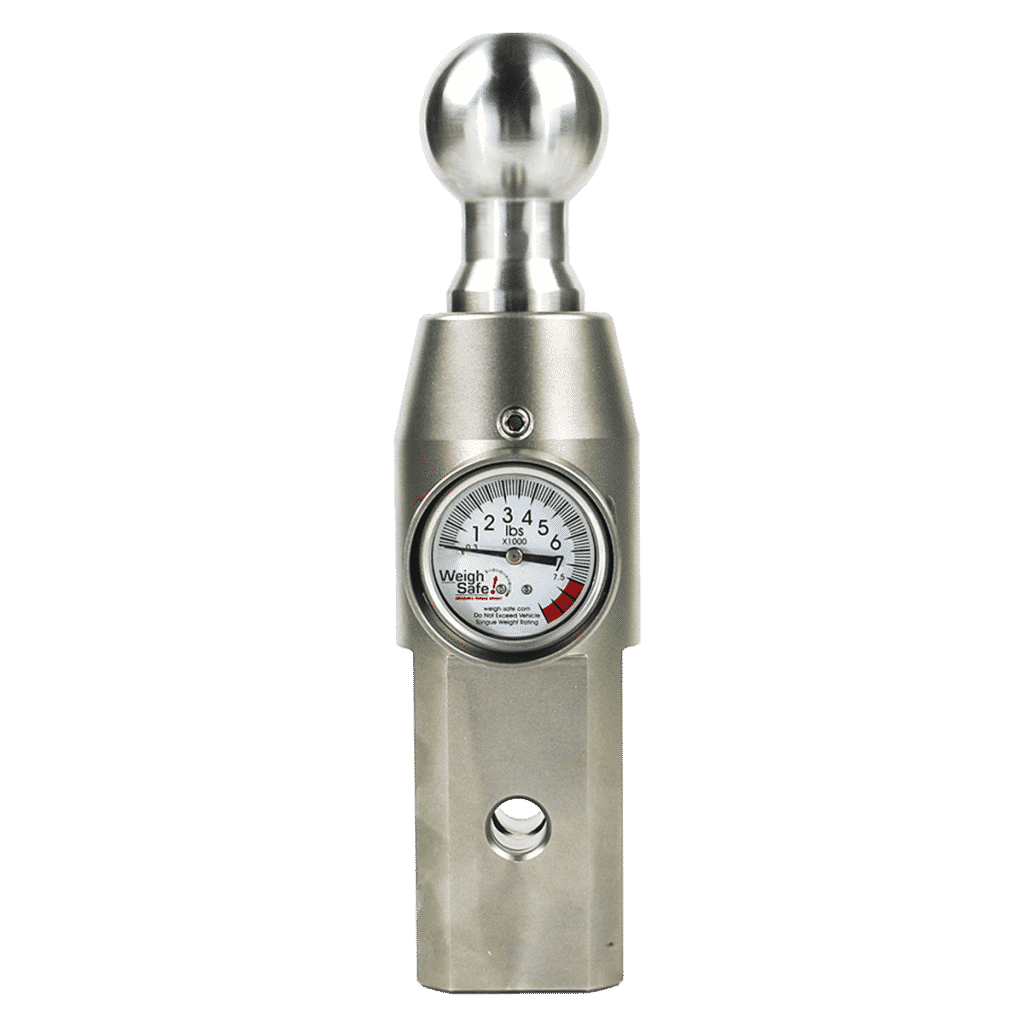 Max GTW: 30,000lbs
Machined Stainless Steel with matte finish
Weight: 18lbs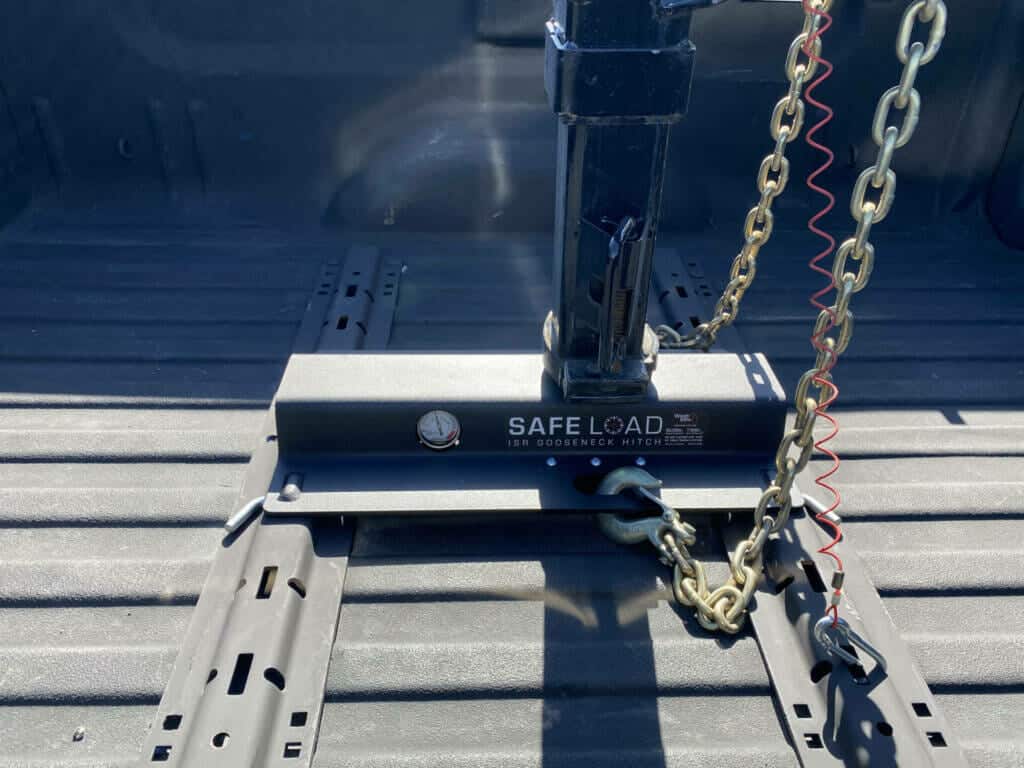 5TH WHEEL GOOSENECK
For trucks already equipped with 5th wheel base rails
Requires: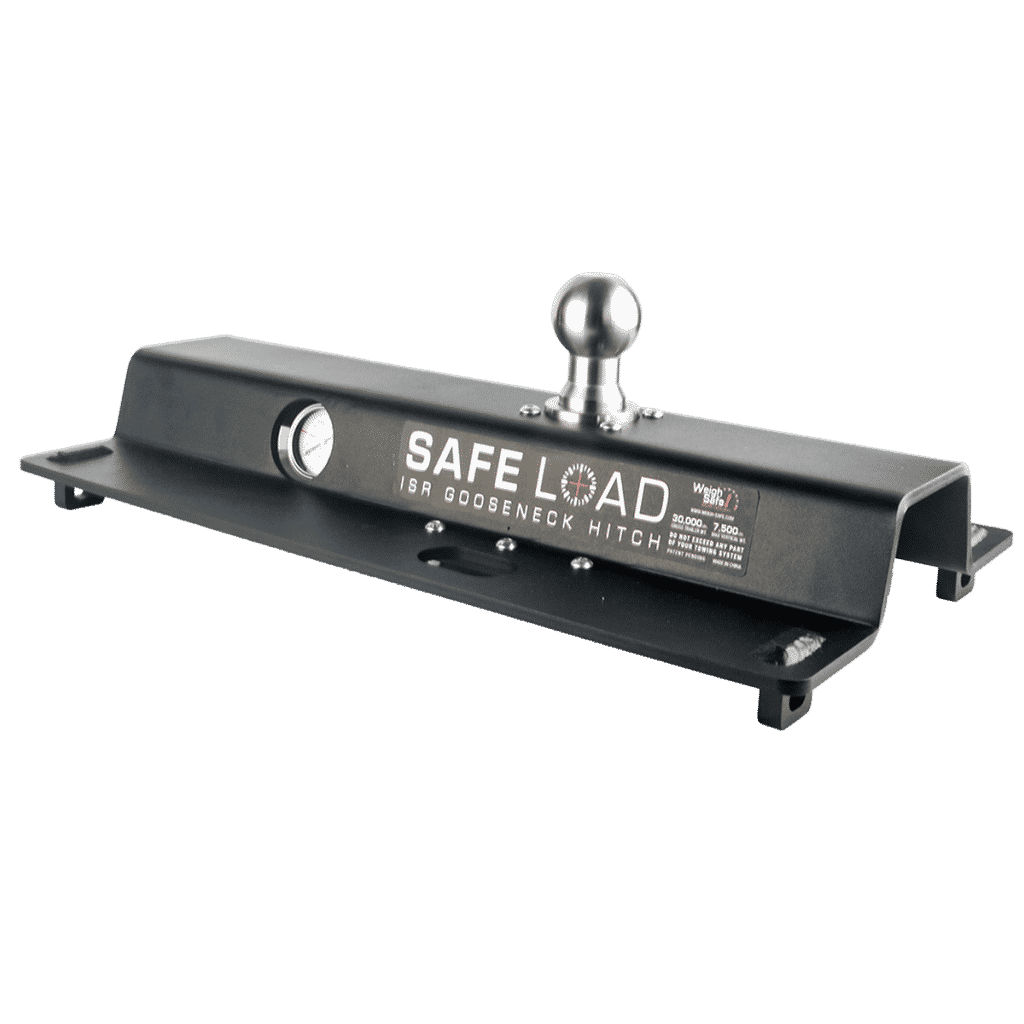 Max GTW: 30,000lbs
Dual Gauges on either side for ease of use.
High-Strength Steel with black powder coated finish
Weight: 50lbs
Need more information on towing with a gooseneck tongue weighing hitch? Check out our Ultimate Guide to Safe Heavy-Duty Towing.
SUMMARY: A TONGUE WEIGHING TRAILER HITCH MAKES LIFE EASIER AND TOWING SAFER
Rationalizations for guessing or eyeballing tongue weight are largely gone. Tongue weighing hitches have brought a whole new standard of safety to the towing industry.
For drivers involved in personal or commercial towing, you can expect that Weigh Safe tongue weighing hitches will greatly improve your towing safety and overall towing experience.
There is no doubt, Weigh Safe will continue efforts to provide top-notch products and accessories, devoted to bringing you towing peace of mind!